One of the things I wanted to blog about this year is how to write stories about your dog, and how to get your story published. With the release of the new Chicken Soup for the Soul My Very Good, Very Bad Dog this month, I thought it would be a great time to share about how to get published in a Chicken Soup for the Soul book. I have stories in more than a dozen of Chicken Soup for the Soul books (including this one), and I'll tell you how you can do it too.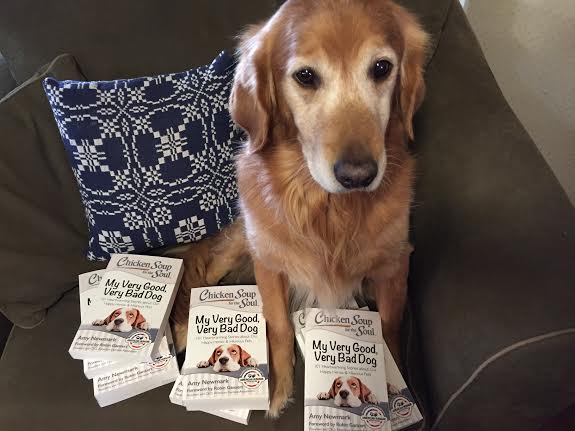 Because the subject of pets is so popular, Chicken Soup for the Soul publishes a dog and a cat volume each year. So even though this book is already on the shelves, you can get an opportunity to submit to the next one. Here are some tips.
Write Your Story
1. The story must be true.
2. The story must be your own.
3. Write your story in the first person ("I").
4. Forget that fancy, stuffy writing. Write the story as if you were telling it to a close friend.
5. Remember the five senses–sight, hearing, smell, touch and taste.
6. Think about a specific moment of significance–don't tell your pet's whole life story.
7. Write in a way that touches emotions, inspires, or makes people laugh and smile.
8. Keep it short. Stories must be less than 1200 words.
After you've written the story, you might ask someone to read it over and give you some comments. Try to avoid your mother and your best friend, however, who will probably love every word you write. Then, set it aside for a few days, come back to it, read it over and make your final edits.
Submit Your Story
1. go to http://www.chickensoup.com/story-submissions/submit-your-story
2. Fill in the form and paste your story.
3. click Submit
4. Wait. If your story is selected in a month or two you will receive an email outlining the next step. Usually you are notified when your story makes it past the first round, and then later if you've made it through the final selection. Chicken Soup for the Soul does not send rejection letters. If you haven't heard anything after 60 or so days, you can assume your story wasn't selected this time. Don't let that discourage you. There are many reasons a story might not get accepted, and there are always other opportunities. Keep writing, keep submitting.
Does Chicken Soup for the Soul pay? You bet. Chicken Soup for the Soul pays $200 plus 10 free copies of the book.
I think every pet parent has a story to tell. Why not submit yours?
Any questions? Ask them here.