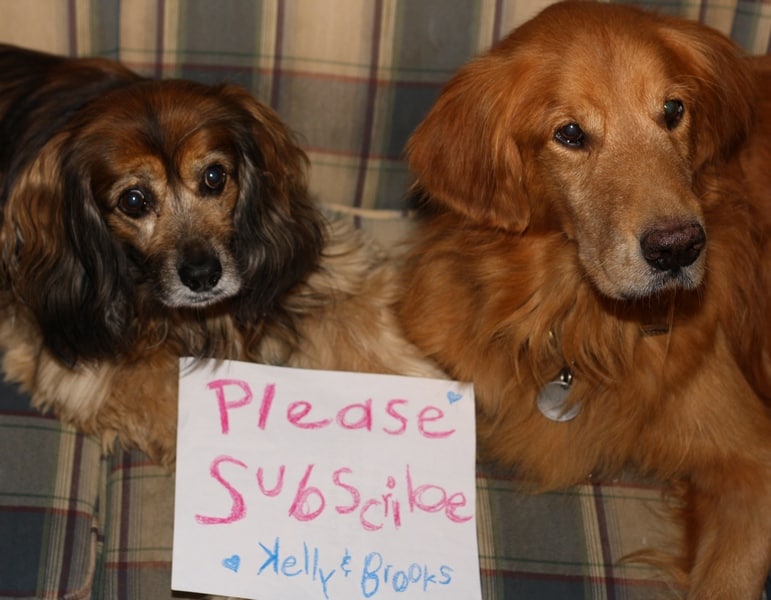 Brooks and Kelly are proud to announce our brand new newsletter, Pawsitively Pets, from Peggy's Pet Place.
We're launching this newsletter to bring you more pet news, go in depth on issues important to you, and to share good news and happy endings–everything PAWsitive!
By subscribing, you'll get the first look at exciting contests and giveaways, special perks only for newsletter subscribers, and totally new content not seen on the blog.
And, when you subscribe, you'll also get FREE my story A Little Sister for Hudson, as seen in Chicken Soup for the Soul, My Dog's Life.
So won't you please subscribe? Brooks, Kelly and I look forward to seeing you there!
Thank you,
Peggy

Subscribe to my FREE newsletter!
get

FREE story

"A

Little Sister for Hudson" from Chic

ken Soup for the Soul, My Dog's Life
var fnames = new Array();var ftypes = new Array();fnames[0]='EMAIL';ftypes[0]='email';fnames[1]='FNAME';ftypes[1]='text';
try {
var jqueryLoaded=jQuery;
jqueryLoaded=true;
} catch(err) {
var jqueryLoaded=false;
}
var head= document.getElementsByTagName('head')[0];
if (!jqueryLoaded) {
var script = document.createElement('script');
script.type = 'text/javascript';
script.src = 'http://ajax.googleapis.com/ajax/libs/jquery/1.4.4/jquery.min.js';
head.appendChild(script);
if (script.readyState && script.onload!==null){
script.onreadystatechange= function () {
if (this.readyState == 'complete') mce_preload_check();
}
}
}
var script = document.createElement('script');
script.type = 'text/javascript';
script.src = 'http://downloads.mailchimp.com/js/jquery.form-n-validate.js';
head.appendChild(script);
var err_style = ";
try{
err_style = mc_custom_error_style;
} catch(e){
err_style = '#mc_embed_signup input.mce_inline_error{border-color:#6B0505;} #mc_embed_signup div.mce_inline_error{margin: 0 0 1em 0; padding: 5px 10px; background-color:#6B0505; font-weight: bold; z-index: 1; color:#fff;}';
}
var head= document.getElementsByTagName('head')[0];
var style= document.createElement('style');
style.type= 'text/css';
if (style.styleSheet) {
style.styleSheet.cssText = err_style;
} else {
style.appendChild(document.createTextNode(err_style));
}
head.appendChild(style);
setTimeout('mce_preload_check();', 250);
var mce_preload_checks = 0;
function mce_preload_check(){
if (mce_preload_checks>40) return;
mce_preload_checks++;
try {
var jqueryLoaded=jQuery;
} catch(err) {
setTimeout('mce_preload_check();', 250);
return;
}
try {
var validatorLoaded=jQuery("#fake-form").validate({});
} catch(err) {
setTimeout('mce_preload_check();', 250);
return;
}
mce_init_form();
}
function mce_init_form(){
jQuery(document).ready( function($) {
var options = { errorClass: 'mce_inline_error', errorElement: 'div', onkeyup: function(){}, onfocusout:function(){}, onblur:function(){} };
var mce_validator = $("#mc-embedded-subscribe-form").validate(options);
$("#mc-embedded-subscribe-form").unbind('submit');//remove the validator so we can get into beforeSubmit on the ajaxform, which then calls the validator
options = { url: 'http://peggyfrezon.us6.list-manage.com/subscribe/post-json?u=786fd9cb69bb2d4325b4f364c&id=9eae47201c&c=?', type: 'GET', dataType: 'json', contentType: "application/json; charset=utf-8″,
beforeSubmit: function(){
$('#mce_tmp_error_msg').remove();
$('.datefield','#mc_embed_signup').each(
function(){
var txt = 'filled';
var fields = new Array();
var i = 0;
$(':text', this).each(
function(){
fields[i] = this;
i++;
});
$(':hidden', this).each(
function(){
var bday = false;
if (fields.length == 2){
bday = true;
fields[2] = {'value':1970};//trick birthdays into having years
}
if ( fields[0].value=='MM' && fields[1].value=='DD' && (fields[2].value=='YYYY' || (bday && fields[2].value==1970) ) ){
this.value = ";
} else if ( fields[0].value==" && fields[1].value==" && (fields[2].value==" || (bday && fields[2].value==1970) ) ){
this.value = ";
} else {
if (/[day]/.test(fields[0].name)){
this.value = fields[1].value+'/'+fields[0].value+'/'+fields[2].value;
} else {
this.value = fields[0].value+'/'+fields[1].value+'/'+fields[2].value;
}
}
});
});
return mce_validator.form();
},
success: mce_success_cb
};
$('#mc-embedded-subscribe-form').ajaxForm(options);
});
}
function mce_success_cb(resp){
$('#mce-success-response').hide();
$('#mce-error-response').hide();
if (resp.result=="success"){
$('#mce-'+resp.result+'-response').show();
$('#mce-'+resp.result+'-response').html(resp.msg);
$('#mc-embedded-subscribe-form').each(function(){
this.reset();
});
} else {
var index = -1;
var msg;
try {
var parts = resp.msg.split(' – ',2);
if (parts[1]==undefined){
msg = resp.msg;
} else {
i = parseInt(parts[0]);
if (i.toString() == parts[0]){
index = parts[0];
msg = parts[1];
} else {
index = -1;
msg = resp.msg;
}
}
} catch(e){
index = -1;
msg = resp.msg;
}
try{
if (index== -1){
$('#mce-'+resp.result+'-response').show();
$('#mce-'+resp.result+'-response').html(msg);
} else {
err_id = 'mce_tmp_error_msg';
html = '
'+msg+'
';
var input_id = '#mc_embed_signup';
var f = $(input_id);
if (ftypes[index]=='address'){
input_id = '#mce-'+fnames[index]+'-addr1′;
f = $(input_id).parent().parent().get(0);
} else if (ftypes[index]=='date'){
input_id = '#mce-'+fnames[index]+'-month';
f = $(input_id).parent().parent().get(0);
} else {
input_id = '#mce-'+fnames[index];
f = $().parent(input_id).get(0);
}
if (f){
$(f).append(html);
$(input_id).focus();
} else {
$('#mce-'+resp.result+'-response').show();
$('#mce-'+resp.result+'-response').html(msg);
}
}
} catch(e){
$('#mce-'+resp.result+'-response').show();
$('#mce-'+resp.result+'-response').html(msg);
}
}
}