While this blog isn't primarily a product review blog, there are times when I like a product so much that I agree to do a review so you can learn about how it could help you. This time, I'm pleased to share with you the Julius-K9 Powerharness.
For the most part, my dogs walk well on leashes, but sometimes Pete will lunge if he sees a cat, squirrel or another dog. Even gentle Ernest can pull if he gets it into his head that he wants to go somewhere off the beaten path. I don't like the idea of putting so much tension on their necks, so we always use a harness.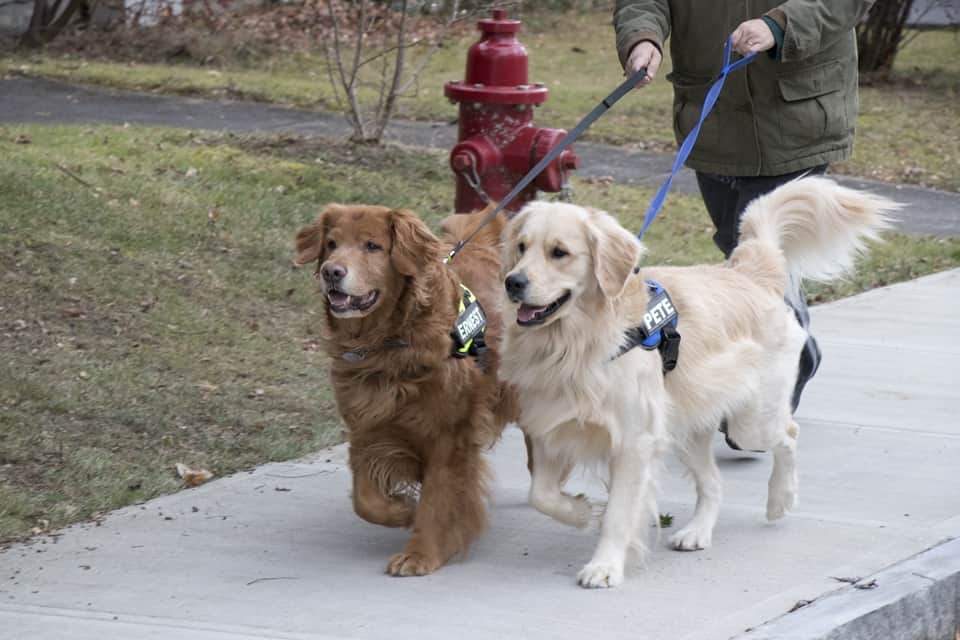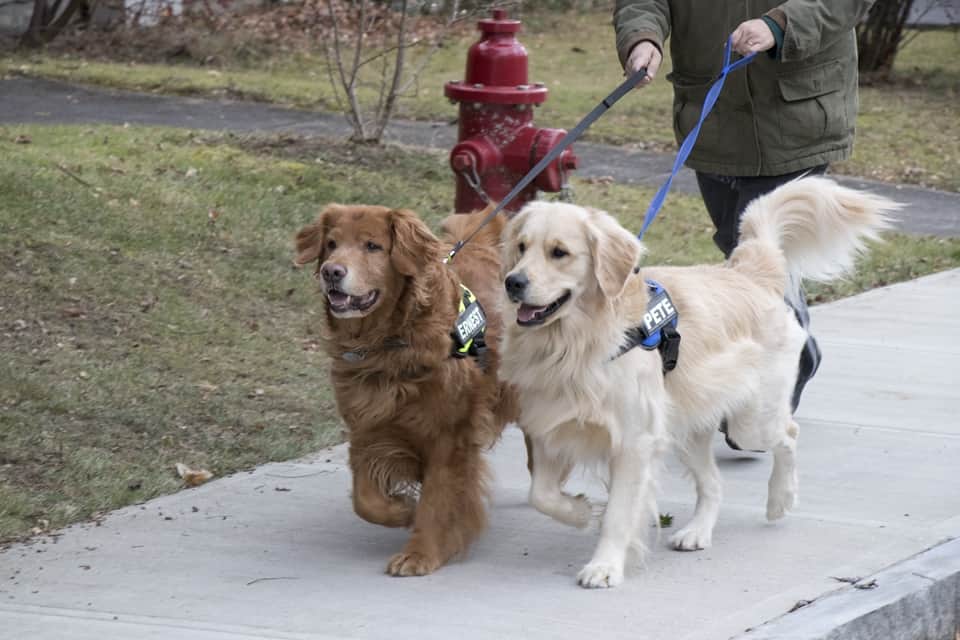 Julius-K9 sent us Powerharnesses to review, and we've been testing them for some time now. Julius-K9 is based in Hungary, and the first products were developed and tested in 1997, and used by the Hungarian and Austrian police. They make a wide variety of products now for working, sport and companion dogs of every size.
"When designing IDC(R) Powerharness, we  spent years examining urban dog walking habits and needs. We wanted to find a way to make comfortable safe, and safe comfortable. This is how the special structure of the IDC Powerharness was conceived 10 years ago," – Gyula Julius Sebo/CEO.
Here is what we found with the Julius-K9 Powerharness:
1.Super sturdy--The materials are heavy-duty, quality fabric and strong metal rings. The buckles are strong enough to withstand pulling. When we're out for a walk I want to be sure the harness won't come undone and risk having Pete or Ernest run off or dart into the road. I feel confident that these buckles feel strong and secure.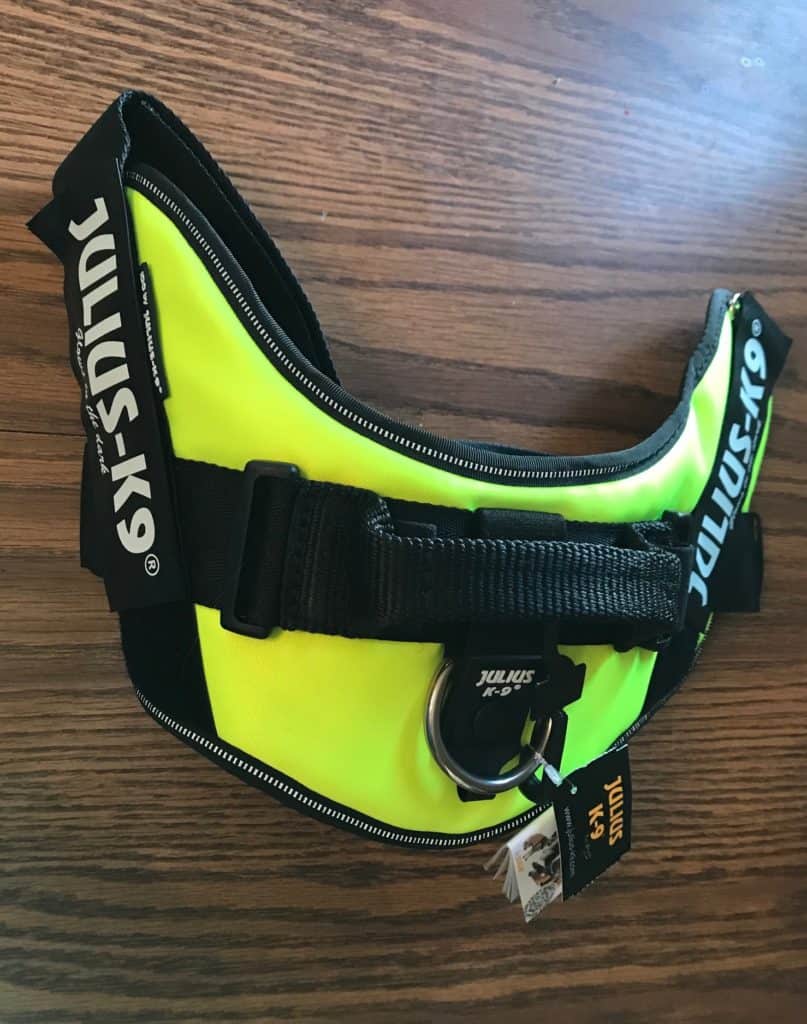 2. Effective–The design improves my control with the leash, without affecting my dog's gait. Julius-K9 has put quite a bit of research into the way a dog moves, and has designed their harness to work without impeding that movement. We noticed it was so much easier to keep Pete walking on when he really wanted to chase off after a squirrel instead. The harness body is lined with a comfortable fabric, so when properly adjusted, it doesn't rub and cause sores in the armpit areas. The dogs both seemed quite comfortable wearing them, and didn't try to pull or scratch at them.
3. Easy to get on and off–so easy! Just slide over your dog's head and buckle. You just need to adjust them once, and then you're good to go every time!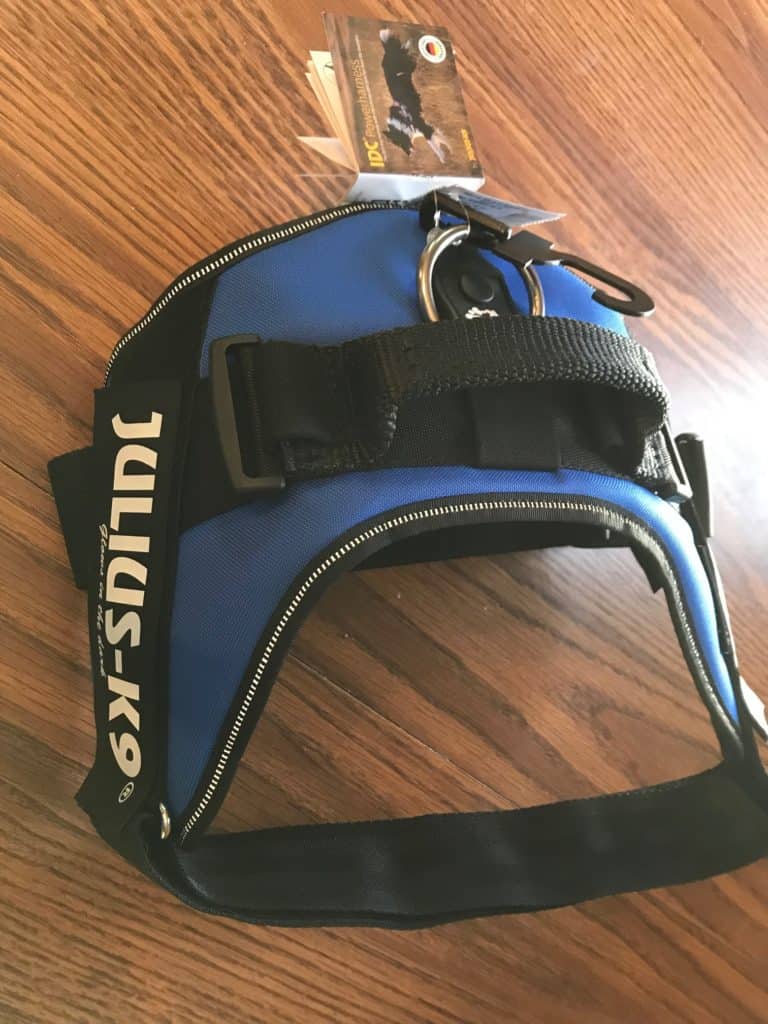 4. Attractive-– The style looks authentic and professional, and there are several colors to choose from. Reflective strips also increase visibility at night.
5. The ability to add patches–Gotta admit, we love those patches! You can have your dog's name, or it can say "Therapy Dog" or "Do Not Pet" or "Hug me!"  you could choose your own a fun saying or logo.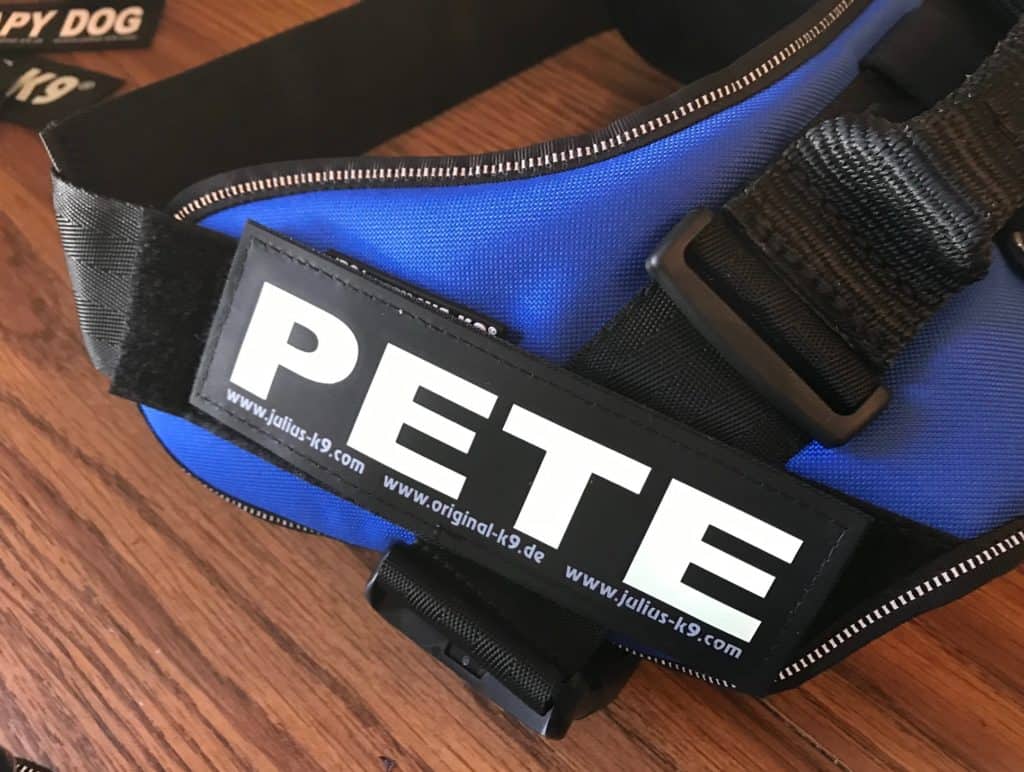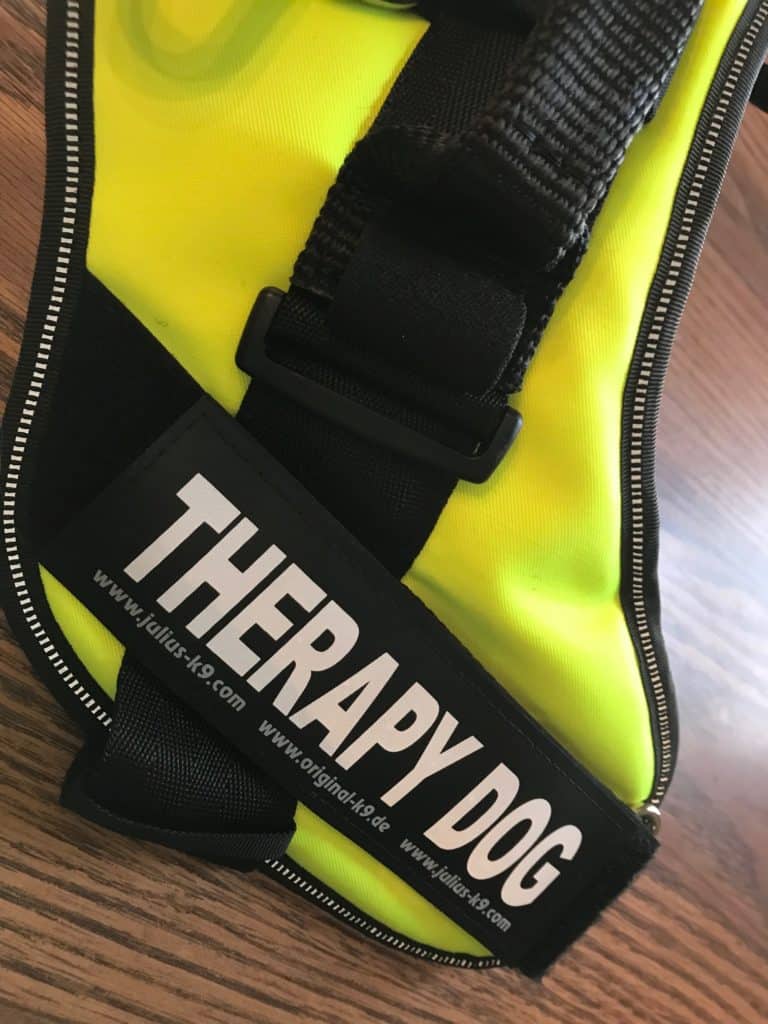 6. Handy handle–The handle is useful for keeping your dog close to your side if need be. It also would be useful to help an older dog up the stairs or into a car, or to support a dog with mobility issues.
7. Front ring attachment option–Some dogs perform better with this adapter that allows you to attach the leash at the chest.
Some more points from Julius-K9:
Professional control for urban walks.
Efficient power transmission: The chest strap is parallel to the leash in your hand, which helps you control the power and hold back or stop your dog with less effort. The wide strap (and optional chest pad you can add) help distribute the pressure for better comfort for the dog. Evenly distributes weight to the chest instead of the neck.
Specific design for different size dogs: Julius-K9 has studied the shape and movement of different dogs, so that their design is made specifically so that the angle you hold the leash will be correct.
Heavy Duty Handle to handle the unexpected: the handle can help you guide your dog up and down steps, getting out of the car, etc.
One Click fit! Easy to fit and use.
Sturdy construction: shatterproof buckle and quality material.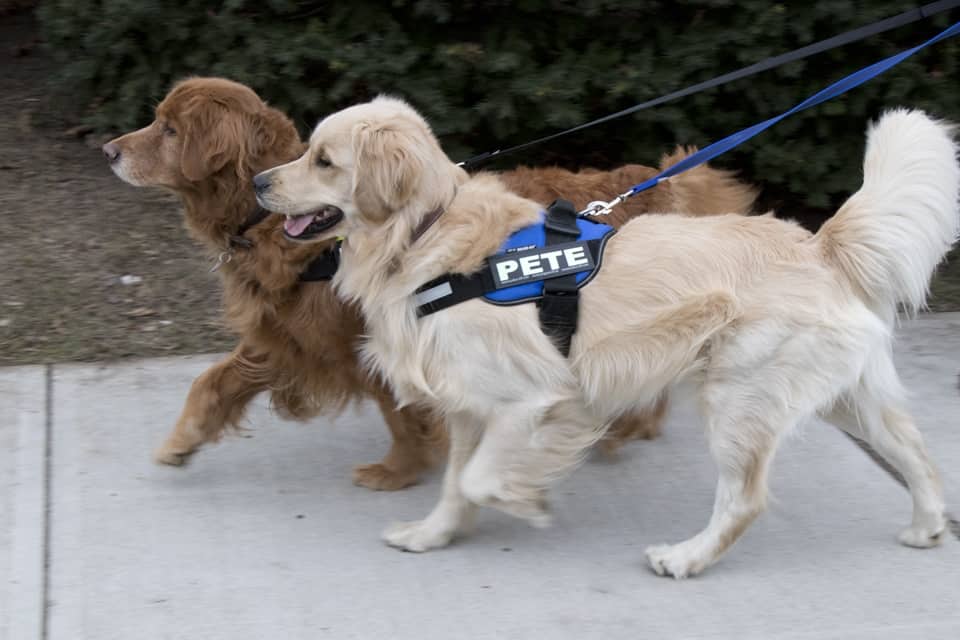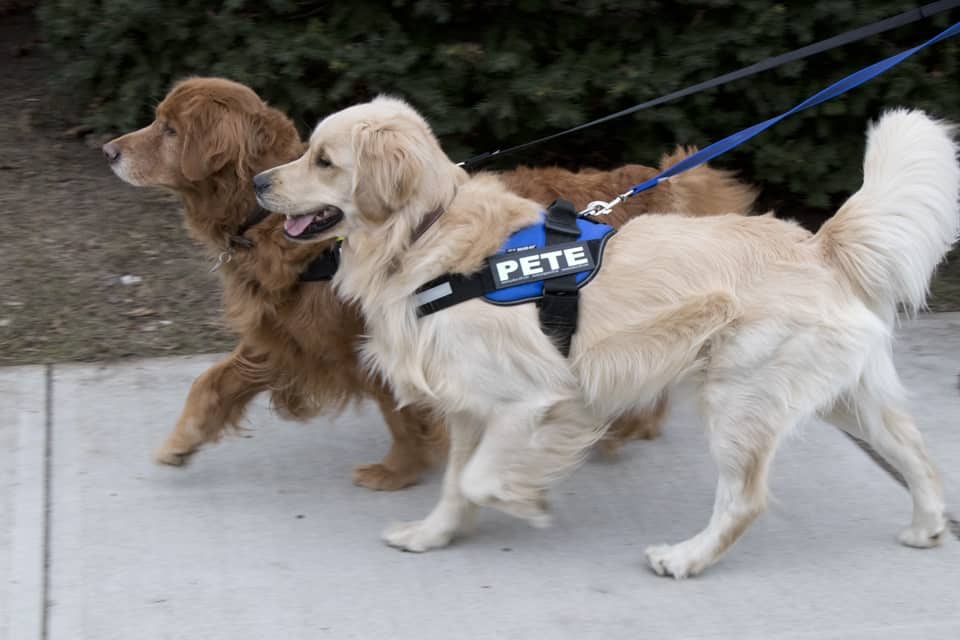 We've taken many walks every day with our dogs and are very happy with the Julius-K9 Powerharness. If you are looking into a harness for your dogs, we hope you'll consider it. We really think you'll like it, and that your dog will feel comfortable with it.
*Full Disclosure: We were provided two Powerharnesses , patches and leashes in exchange for our honest review. This in no way influenced our opinion. Opinions expressed here are 100% my own.