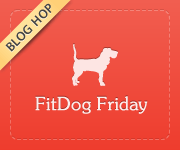 FitDog Friday, co-hosted by Peggy's Pet Place, Slimdoggy, and To Dog With Love! Let's all be fit dogs!
Can a senior dog be a fit dog? Kelly thinks so! She's 11 years old and still pretty spry for her age. She doesn't chase tennis balls, but that's because she's a girly-girl and doesn't like to fetch. But she loves to run, play tug and other games, and she adores jumping. Just watch!
Sometimes she gets a little too much oomph into her jump.
*While we're here, I'd also like to ask for your vote for Dogtime's Petties for my blog post after losing Brooks. We got a little support on that front from PetSmart Charities. Look what they posted on their Facebook Page!
Did you enjoy reading Peggy's guest blog post about when to choose a pet after loss? Nominate her for a Pettie: http://bit.ly/14XQfFo
Today is the last day for nominations! If you liked my post, "When To Get a New Dog after Pet Loss" post, I'd be honored if you'd consider nominating it. Blogs with the most nominations go on to the next round. To nominate
1. Go to http://petties.dogtime.com
2. Click on Nominate
3. Scroll down to Best Blog Post
4. Paste this URL: http://peggyfrezon.blogspot.com/2013/04/when-to-get-new-dog-after-your-pet-dies.html
5. Click Submit Ballot
At the same
time, you can also nominate a rescue or shelter to win a Petties grant.
THANK YOU!
Now on to the blog hop!
Want PAWsitive pet tips, good news and special bonuses? Content not already
on the blog? Fetch our free newsletter! Kelly and I can't wait to see
you there!