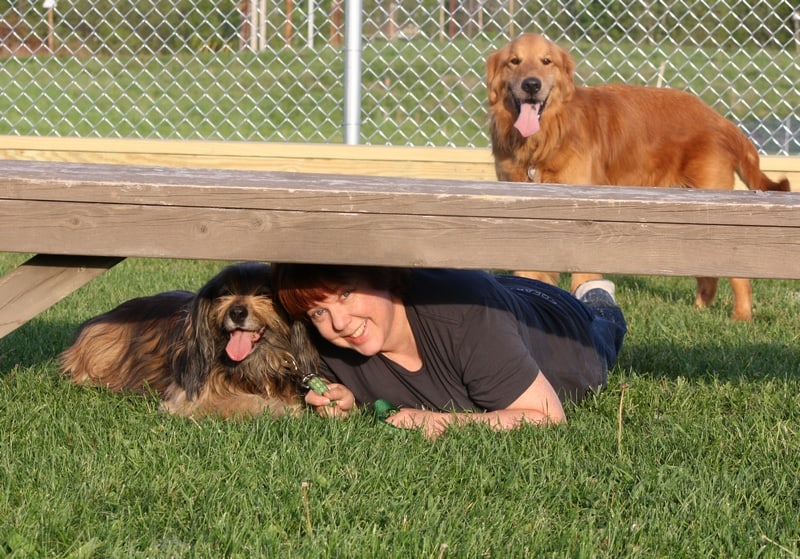 Grabbing a fun fitness moment crawling under a bench in the park.
This past season, the reality TV show The Biggest Loser focused on different excuses for not exercising. The one I related to most was "I don't have time." ie: " I'm too busy to work out." "I can't walk the dog AND get in my own routine as well."
Now we will take a lesson from another TV show, Minute to Win it, which featured quick, fun games using items you could find around the home. That's the idea of our Week 3 challenge. We'll spend the week focusing on quick fun challenges that only take a minute or so each. All those minutes will really add up. Are you ready?
This week, whenever you find a few spare moments, take the opportunity to initiate some fun fitness activity with your dog. Here are some ideas.
A minute of:
1. Fetch– make sure you get some running in too!
2. Climbing/running stairs
3. Tug of war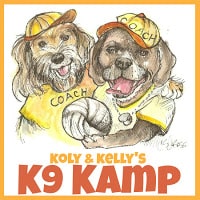 4. Keep away
5. Chasing around the house or yard
6. You and your dog (along with your husband, child, neighbor or whoever) play monkey in the middle
7. Play roughhousing– if your dog likes it
8. Walk in place during the TV commercials (bonus points if you actually get your dog to do this with you, lol).
9. Toe touches in between cooking or doing dishes. On your way to touching your toes, be sure to pat your dog!
10. Recall practice. While you have your dog on "stay," sneak in a few jumping jacks or squats for yourself.
Aim for 10 minutes a day. End the day with a cool down and nice belly rub!
I bet you can think up a few more ideas of your own. What activities can you and your dog do in a minute? Check out more really cool ideas from Kol's Notes too. Report back next Thursday for our blog hop too.
And don't forget to check out our prize page. You can enter now to win great prizes like leather collars, plenty of dog toys, fitness toys, and even my book Dieting with my Dog! And if you do all 4 challenges and fill out our Rafflecopter, you will get a free copy of the great summer issue of Modern Dog! There are dozens of great prizes and lots of ways to enter.
Have a fun week. You're doing great, Kampers!