What is the best food to feed my dog?
Wouldn't it be nice if there was ONE SIMPLE answer that question? If there was THE BEST, healthiest, most nutritious food that was a no-brainer–just buy, measure, feed and there you go.
But it's not that easy. Dogs come in different sizes. Different breeds. Their health varies. Their activity levels vary. Every dog has different needs. That's why we have to evaluate carefully to determine what food to feed them.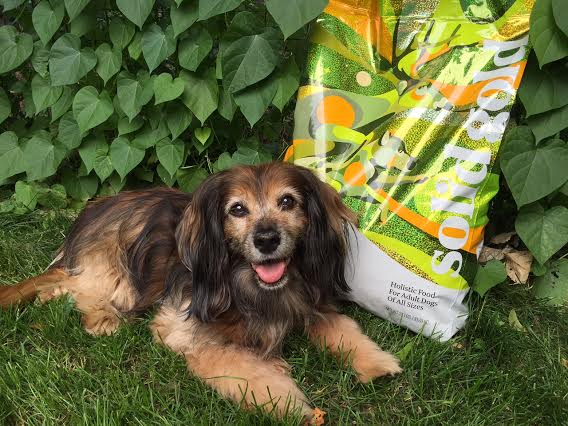 Kelly and Ike have different needs. Ike is about 70 pounds. Kelly is 35 pounds. Ike has allergies. Kelly has Cushing's Disease. Ike is 9 years old. Kelly is 13. Ike is a couch potato. Kelly has achy joints.
Recently Solid Gold invited me to join their campaign and try out their dog food, and blog about the results.
After researching the company, I was happy to join. I decided to select Kelly for the trial, since Ike is currently doing well on his limited ingredient duck-based food and I didn't want to mess with that.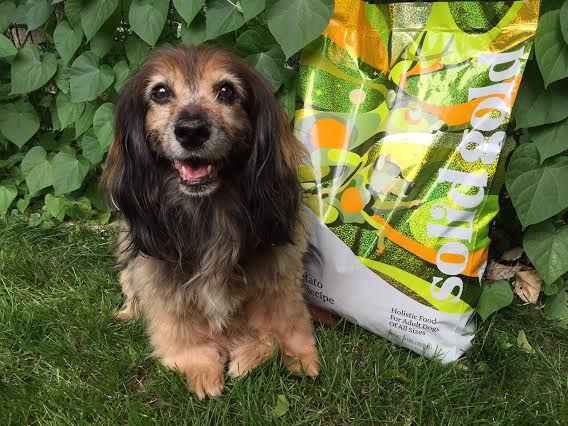 Here are some of the criteria I look for when I'm evaluating a new food for my dog:
1. Ingredients
2. Company reputation/lack of recalls
3. How my dog enjoys the taste
4. My dog's digestive health while on food
5. My dog's overall health while on food
Today I'll discuss the ingredients in Solid Gold.
Solid Gold is holistic dog food made with natural ingredients and added vitamins and minerals. Many varieties are available in grain-free. I was impressed that Solid Gold took care to ask questions about Kelly and then recommend a food blend appropriate for her. They recommended Buck Wild variety, with venison, potato, and pumpkin.
Some other ingredients:
Turkey meal
Chickpeas
Carrots
Apples
Cranberries
Blueberries
Lettuce
Celery
Beets
Spinach
Broccoli
Other varieties are
chicken, tapioca, and quinoa
beef, eggs and peas
turkey and vegetables
buffalo, sweet potato, and chick peas
oatmeal, barley and ocean fish
and more
Kelly is used to a chicken-based dogfood, but for this review we are trying to venison food. I'm very pleased with the ingredients in Solid Gold dog food. Dog food advisor ranks Solid Gold as 4 stars, above average dog food.
I'll let you know how Kelly likes it, and we'll discuss more about reputation and recalls next time! And, keep reading because we'll be offering some giveaways later on, so you can try for yourself!
How about you? What is the number one ingredient in the food you feed your dog? Have you tried any other proteins for your dog? What ingredients are most important to you when you look for a dog food? How do you evaluate the ingredients in your dog's food?
Full Disclosure:
* Solid Gold supplied me with a 3 month supply of Solid Gold venison formula to review. This in no way influenced my opinions. All opinions expressed here are 100% my own. No money was given in exchange for this review.