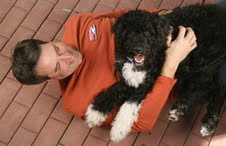 (Photo provided by FETCH! Pet Care)
Kelly interviews Paul Mann, CEO of Fetch! Pet Care about pet sitting and dog walking.
Kelly: I a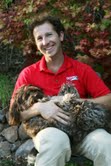 m lonely when my mom and dad leave. What will my day be like with a pet sitter?

PM: Kelly, you might start the day with a yummy meal followed by a walk in your neighborhood. If your neighborhood has off-leash dog parks you will have the opportunity to romp with your friends. If you're a lucky dog, your pet sitter will come back at lunchtime and again at dinner (or better yet, have the sitter stay overnight at your home). For your cat friends, their litter and water will be changed with each visit. No doubt, you'll have tons of playtime and you will surely be "dog tired" and fall asleep with a smile on your face by the end of the day.
Kelly: Okay, some people I know are not as trusting as us dogs. They're uncomfortable about giving strangers a key to their home. They also wonder if pet sitters will spend as much time with me as they're supposed to. What will help them feel confident?
PM: Have your mom and dad look for pet sitters who are experienced pet owners themselves and understand how important it is to provide an exceptional amount of love and care to pets as your parents would. In addition, make sure all sitters are bonded, insured, background checked and come with great references.
Kelly: I know mom and dad worry when they're away. Will they receive reports? Will they be annoying if they call to check in every day (I know my mom!)?
PM: A pet sitter should do whatever is necessary to give pet parents peace of mind while they are away. They will leave a detailed report card at the completion of every assignment, but will also call, text or email the parents if preferred. Clients should feel comfortable to contact their pet sitter whenever they wish.
Kelly: I'm very excited about my walks! How long will my walk last? Will I walk alone, or with other dogs? What if we don't get along?
PM: Most dog walkers offer a choice of private or group walks. Most private walks are a minimum of 30 minutes. Have our mom talk with your dog walker before to ensure compatibility between you, the pet sitter and other dogs you might interact with.
Kelly: Some of
my friends are timid about walks. Will dog-walking work for them?
PM: Some dogs simply don't like to be on a leash. These dogs may prefer play in the back yard or be transported to an approved off-leash area where they can get their exercise.
Kelly (shivering): What if I get loose?
PM: Dedicated dog walkers take special precautions to ensure pets don't get loose, whether on leashed walks, off-leash adventures, or in their house. However, accidents can happen. Experienced handlers and know how to prevent and deal with situations of a dog getting off leash.
Kelly: Mom and Dad want to take me on vacation with them. Yippee! Even though they found a pet-friendly hotel, they aren't allowed to leave me alone. Can someone stay with me and walk me while they go out?
PM: Absolutely! On-location pet sitting is available in many locations. Services range from having a sitter to come to your hotel and take you for a walk or if you would prefer the pet sitter may board you at their own home so you have a bit more "free range" that most hotels don't allow.
Check out more about FETCH! Pet Care.

Founded in 2002 and with more than 1,500 service areas in the United States, FETCH! Pet Care is the pet sitting industry market leader – the new face of pet care in the 21st century. The company offers a humane alternative to kennel boarding by providing loving, in-home overnight and/or daily care to any kind of pet in the most professional and reliable manner possible. FETCH! was ranked No. 1 franchise in the pet industry from Entrepreneur Magazine's 2011 Franchise 500 ranking, as well as No. 166 overall. FETCH! was also ranked No. 1 in the pet industry and No. 69 out of 300 on the AllBusiness.com AllStar Franchise list for 2011. For more information, visit www.FetchPetCare.com or the company Facebook page.