My dogs have a few "go-to" toys, and the Kong is always at the top of the list. When filled with kibble, treats, carrots, leftover concoctions, the Kong can keep Kelly and Ike busy for significantly longer than any other treat or toy around. So, I was thrilled when JAKKS Pacific, Inc. asked if I'd like to review some of their KONG all natural Premium treats. Hmm something new to stuff in the Kongs!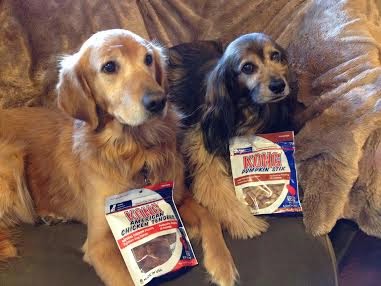 We selected:
KONG Pumpkin Sticks
*No wheat, corn or soy
*No animal by-products
*No harmful preservatives or colorants
*Contains vitamins and Minerals
KONG American Chicken Tenders
*Made in the USA
*All natural
*No fillers
*No additives
**Enter below for your chance to win a bag of each for your dog!**
Did Kelly and Ike like these treats?
Definitely!
Hurry up Mom, let me at it!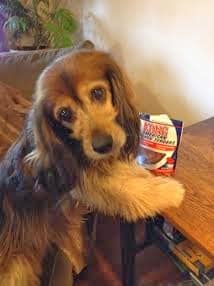 Can I have some now?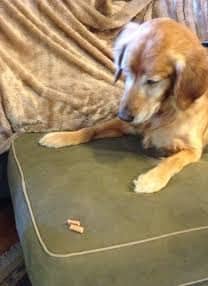 Do I hafta wait for you to say "okay?"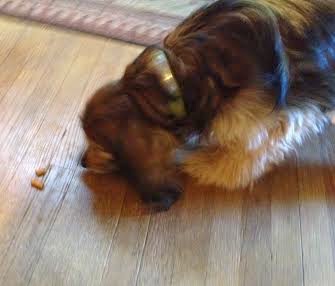 Okay, I'm going for them NOW!
Both dogs went crazy for the Kong premium treats! They were so excited, I had to feed them separately or Kelly would demand to have them all for herself! I put the treats in the Kongs. At first I thought they'd fall right out, but they stayed in nicely while the dogs worked to get them out. Kelly got them out more quickly than Ike, who enjoyed solving the mystery for about 20 minutes.
We love Kong premium treats and would definitely get them again. And now, three lucky winners can receive a package of Kong Pumpkin Sticks and Kong American Chicken Tenders for your own dogs! Enter the Rafflecopter below! THREE winners will win two bags each!
Full Disclosure: I was provided with two bags of Kong premium treats to review, and 6 bags to give away. This in no way influenced my review. Opinions expressed here are 100% my own.
Want
more positive pet tips, good news, and special offers? Fetch
my free newsletter, Pawsitively Pets. Kelly and Ike
hope to see you there!