Kelly wears a collar and Ike wears a harness. Although both dogs live in the same family, the different option is right for each of them. What made me choose a harness for Ike?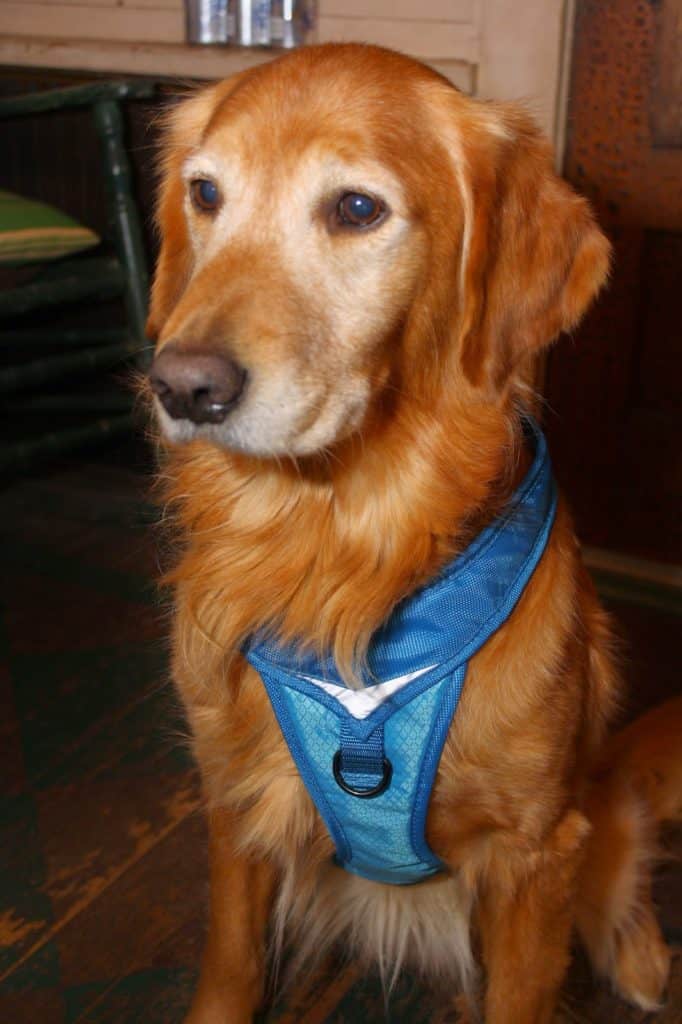 Doesn't Ike look handsome in blue?
A harness:
*may provide more control for walking.
*is appropriate for active, outdoorsy dogs.
*can be used with a seat belt for car travel.
*eliminates pressure on the dog's neck and trachea.
*is difficult to come apart or be wiggled out of.
Recently I was given the opportunity to review the Kurgo Go-Tech Adventure Harness. This harness is lightweight, with
easy-to-use steel nesting buckles that make it easy to get the harness on and off your
dog. The harness includes reflective strips, a back leash ring, a front leash ring, a handle on the back, and a car tether strap.
Ease of use: Easy to Medium
Adjustment points: 2 (chest)
Buckle System: Steel Nesting Buckles
Vehicle restraint harness: Yes
Walking harness: Yes
Crash tested harness: No
Tensile Tested (Strength tested): Yes
Includes dog seat belt: Yes
Reflective: Yes
Available Colors: Blue and Raspberry
I must add that the color blue, almost a teal blue, is really beautiful!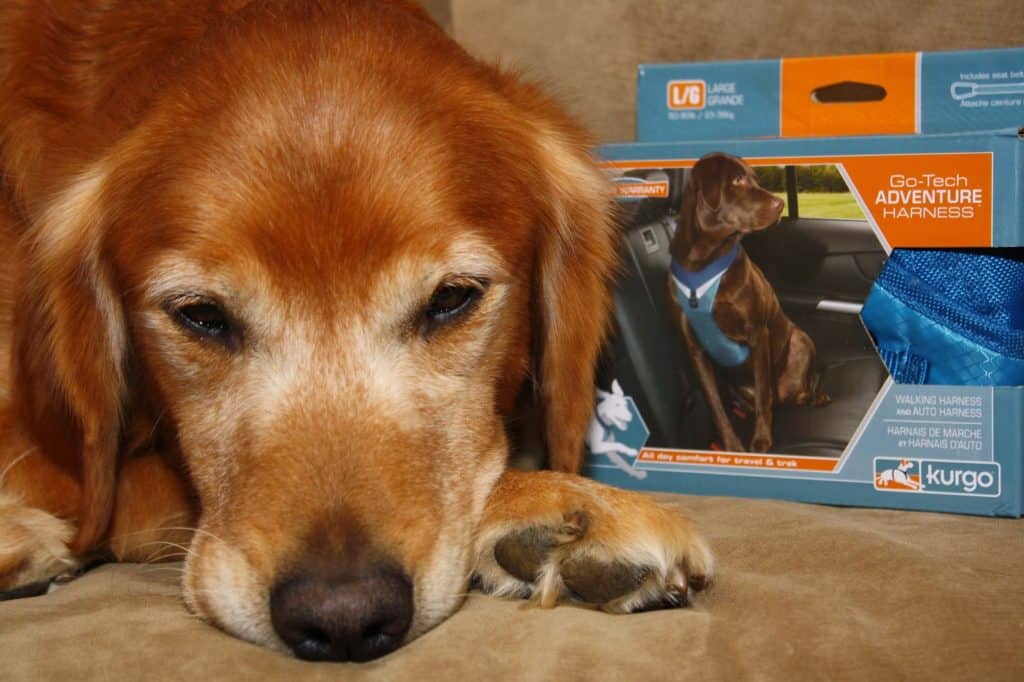 The Kurgo harness is easy to get on, although I did make the mistake of putting it on the wrong way at first. Ike wasn't a big fan of getting dressed up, but got used to it the more I used it. The best feature of this harness are the sturdy metal buckles. I was impressed with how easy they slid into each other to buckle and unbuckle.
Please be aware that, while the harness can help eliminate driver distraction, this is not a crash-protection harness. Please read How to pick the right harness to determine which harness is best for your dog. The Kurgo Enhanced Strength Tru-Fit Smart Harness is crash tested for vehicle restraint safety, and is the best dog harness for car travel safety.
This is a well made, well designed harness that would be an excellent choice for your dog.
Ike weighs 65 pounds, and took a size Large harness.
*Full Disclosure- Kurgo sent me one Go-Tech Adventure Harness for my review. This in no way influenced my review. Opinions expressed here are 100% my own.