We got mail! We got mail! And it's a big box of treats just for Ernest and Petey! They can't wait to dig in and try them out!
Recently my friend Robert Hudson, a great animal advocate, blogger, and podcaster with the website The Pet Radio Show told me about his new pet supplies shop and asked if Ernest and Petey would enjoy sampling a few of the goodies. Of course! The pups are always in the mood for food and I am always on the lookout for a great place to get the best products for my pets.
Buster and Dickens Pet Shoppe features limited ingredient ingredient and gourmet treats, health products and toys for dogs, cats, and even ferrets. Here is what was included in our package:
I really like Buster and Dickens because I feel confident that the products offered are carefully selected and good for my dogs. They are high quality, and  made in the USA (except the Yak cheese which is made in Nepal, because we don't have Yaks in the USA!) I like the variety of novel proteins that can be difficult to find in other shops. My dogs will appreciate experiencing different flavors such as rabbit and alligator. Plus, there are toys and fun items such as this dapper red bowtie! Petey thinks he looks handsome, don't you agree?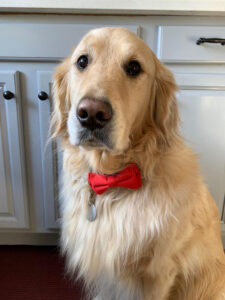 I am impressed with the quality of the products. They were packaged nicely and shipped "with love" as the website says! I hope you check out Buster and Dickens for your pet supply needs. Tell them Ernest and Petey sent you!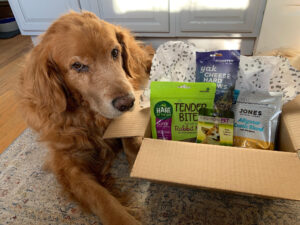 FULL DISCLOSURE: We were provided with the following items in exchange for our honest review: one 4.5 oz bag Tender Bites rabbit meat, one 3 oz bag alligator blend, one Yak Cheese hard chews, large and one Fashion Pet bow tie.  This in no way influenced my opinion. Opinions expressed here are 100% my own.