Writing is a solitary job, so I'm used to working at home alone….but I'm never really alone, because I always have my golden retrievers Ernest and Petey here with me.  Now, with the pandemic keeping so many away from the office, you may be working from home too. Your children may be home from school. And, for sure, we're all unable to get out and socialize like we used to.  But maybe–like me–you have pets at home who are a vital ingredient to your happiness and wellbeing during this difficult time.
 Dr. Jeffrey Levy, DVM, CVA, a.k.a. "Dr. Jeff," a New York City-based acupuncture housecall vet recognizes that pets are valuable in helping us cope through a pandemic. They provide us with exercise, a playmate for our kids, emotional support, and a sense of normalcy in what is definitely not a normal time. You may not be familiar with an acupuncture housecall vet (I wasn't) –but Dr. Jeff is unique in yet another way. Dr. Jeff is also a musician who sings to his animal patients and their owners on his visits! His original pop/rock melodies are what he calls "pet-centric songs" and provide added comfort in these challenging times.
Just check out Dr. Jeff's new song, "21st Century Pet," a song which celebrates the comfort that pets bring their owners during the pandemic. (Written and performed by Dr. Jeffrey Levy, DVM, CVA)
For young children, Dr. Jeff also has an animated version of his song to comfort and teach kids how to cope through the pandemic, with the assistance of our animal friends. He also has recorded a Spanish version of his song.
I totally agree with Dr. Jeff's message. I'm so grateful to have Ernest and Pete by my side during this challenging time–and all the time too 🙂
About Dr. Jeffrey Levy-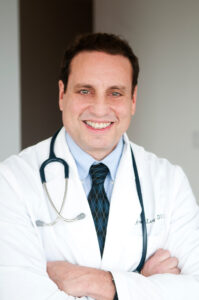 Dr. Jeffrey Levy, a New York City-based housecall veterinarian, is certified in acupuncture, helping with healing and pain relief in dogs and cats. He has been published in the Journal of the American Veterinary Medical Association, and has served as the official veterinary acupuncturist of the International Cat Show at New York City's Madison Square Garden, and as an official veterinarian of the Westminster Kennel Club Dog Show. Dr. Jeff lives in Manhattan with his wife, Rocio (introduced to Dr. Jeff by her cat, Tom), and his six-year-old daughter, Valentina, who plans to follow in Dad's footsteps as a future veterinarian. Dr. Jeff can be found on Facebook and on Instagram @housecallvetnyc.
Did Dr. Jeff's music video bring a smile to your face? Do you know a child who might enjoy the animated version? How have your pets helped you through the pandemic? Share in the comments!