Ernest and Petey might not agree, but Golden retrievers need grooming. Maybe not as much as a poodle or afghan hound, but they certainly need baths and a blow dry. Because of their double coat, they shouldn't be shaved down, but they do need trimming, especially around their feet. Goldens tend to grow "slippers" or fuzzy hair between their toes. So it's a good idea to trim that up.
We generally bathe them and brush them out ourselves, but once in a while, when we can, we take them to a professional groomer who does a beautiful job. With Covid, however, some shops are closed and other pet parents are turning to grooming their pets at home. For this, it is helpful to have the right equipment.
When I got a chance to review a grooming table from Topeakmart, I thought it seemed like the perfect timing. I only review products that I would use myself, and think that my readers would find useful. And after enough times crawling around on the floor trying to towel off Ernie, and breaking my back trying to keep Petey still while I trimmed his feet, I figured a grooming table would certainly be a big help.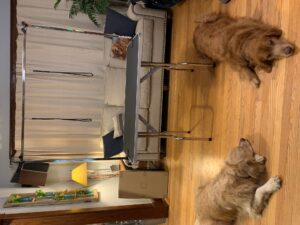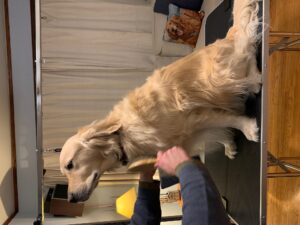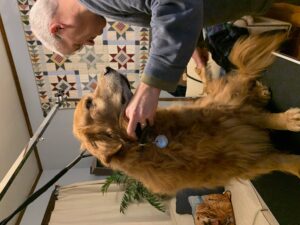 We received the Topeakmart 45-inch grooming table quickly and were able to set it up easily. We don't have a separate area to leave this set up but it folds conveniently for storage when not in use. I also plan to bring it outside to groom the dogs when the weather is warmer. Our main hurdle in using this table was getting the dogs up onto it. If your dog is small and light, or an agile jumper then no problem. The table is high, and  our dogs are heavy. Petey is fairly spry and a little lighter than Ernest, so we were able to lift him up, but it wasn't easy. If you have doggy stairs, or even a ramp, it could maybe help. For Ernest, who is a senior and not very spry, we pushed the table next to the couch and got him up onto the couch, and then onto the table.
From there, everything was smooth sailing. The dogs didn't object to the loops at all. They stood comfortably and calmly while we groomed them. The loops helped keep them still, and keep them from lying down every time we wanted to get near their back legs.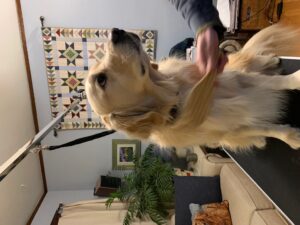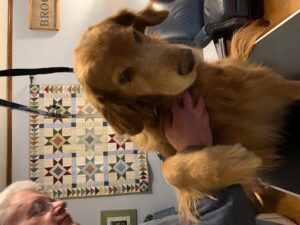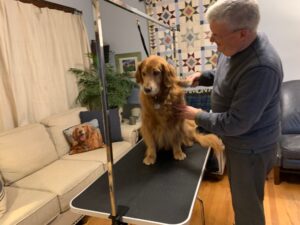 I predict that our dogs will be much better groomed now that we have this table, because we will be more likely to do it now that it is more comfortable and convenient. The Topeakmart grooming table is a strong, excellent quality table that Ernest, Pete and I highly recommend.
Review:
Good shipping and packaging–The table arrived quickly, and was packaged efficiently. Even though the outer box had gotten banged up in the shipping process, the table was packed with corner protectors and Styrofoam, wrapped securely, and was in perfect condition.
Quality material–The table also was heavy and made of quality material. The top is made of durable MDF boards with a stainless steel frame and legs. There is a metal tray. All the connectors and knobs are strong. And the loops for keeping your dog in a standing position while you groom appeared comfortable and thick.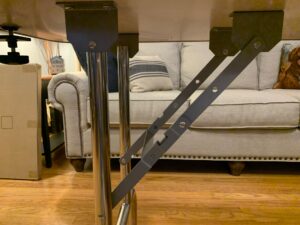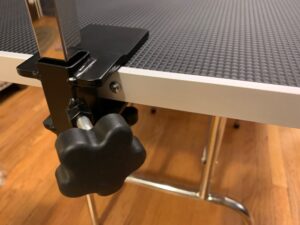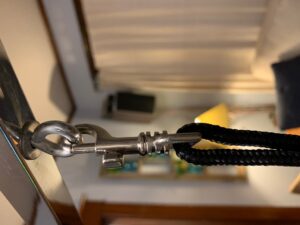 Easy Assembly—There really was nothing much to the assembly. The table itself comes in one piece. The side bars and cross bar are easily attached—I just slid the pieces of the frame into the connectors. The bars secured to the table using two clamps. The clamps are tightened and adjusted with rotating knobs. There is an optional basket you can mount on the bottom.
Sturdy— Was the table sturdy enough to hold an 82 pound golden retriever? Although the instructions stated that it could support more than 260 lbs, I wanted to be sure it wouldn't wobble or tip. This table held the weight of my golden retrievers without a problem. The dogs didn't struggle or seem anxious on the table, which I attribute to its sturdiness. In addition, the clamps that held the side bars in place felt secure, and the entire H-shaped frame didn't wobble or come loose.
Non-slip—I really like the surface of the table. It is a bumpy, rubbery surface. My dogs didn't slide around, or try to jump down, and felt secure standing and sitting on it.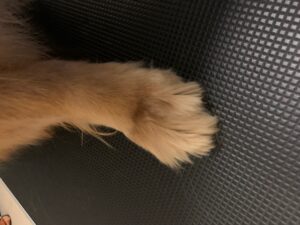 Easy to adjust—You can easily adjust the height of the side bars and cross bar to be suitable for the size of your dog. For our goldens, we put it near its highest height. The maximum height is 69.7 inches.
Easy to store—I don't have enough room to set up a grooming area, or store bulky furniture. Fortunately, this table folds up nicely for storage. The legs are easy to unlock and fold in toward the center of the table. This means I can store the table in my basement or garage when not in use. It also makes the table portable if you groom outside of your home, as long as you can fit it in your vehicle. The only downside is that the side bars and other various pieces don't have a designated storage place on the table, so I'm searching for a solution so that I can keep them all together conveniently. A mesh bag? A long, thin box? I haven't yet found the solution.
Convenient—If you're interested in grooming your dog at home, or even want a surface for trimming toenails, applying ear medication or brushing teeth, this table would be very convenient.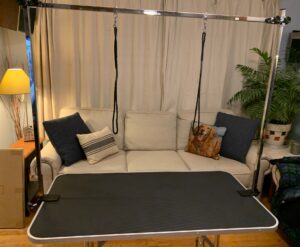 Specifications:
Overall dimension (including frame):  46.5 x 24 x 69.7 inch (L x W x H)
Folded size: 45 x 24 x 3.1 inch (L x W x H)
Net weight: 37.7lb
Full Disclosure: We were provided one 45 inch grooming table in exchange for our honest review. This in no way influenced my opinions. Opinions expressed here are 100% my own.