Are you a James Herriot fan? I am! His collection of books were among the first fiction I ever chose on my own to read outside of school, and one of the few possessions I've managed to carry with me from ever since I was a high school student. You can see they're well-read and…well, dog-eared!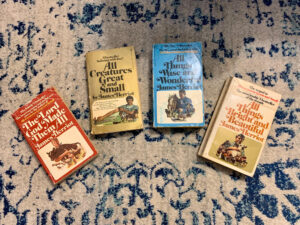 So I was excited to hear positive reviews of the PBS Masterpiece seven part series, All Creatures Great and Small. Did you watch it too? I enjoyed the familiar stories, the acting, the animals and most of all the beautiful Yorkshire countryside. Now that the series has wrapped up, let's WOOF about it. What did you like most? Least? Did you find it lived up to the books or were you disappointed? Which character did you like best?
The best part for me was watching the transformation of the characters. I loved watching James go from being the unsure new guy, being tested by Farnum and kicked by horses, to a more confident and comfortable James. I also enjoyed watching Tristan arrive and admit his faults and failures, and grow.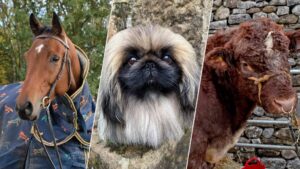 At first I felt I was missing the Yorkshire dialect, because as much as it was there, it was, surprisingly, easier for me to take in when reading the books than listening to the spoken word. That's because it is a bit difficult to understand when it goes by so fast. I love the phrases and accents so I was slightly disappointed that I didn't catch them as easily as I wanted to.
Which animals were your favorites? I especially loved Skeldale House's golden retriever, but I was also in awe of Helen's bull, Clive. What a huge and beautiful creature! Which animal do you love the most? Is it the pampered Tricky Woo? The tragic racehorse Andante? One of the farm animals?
Share your comments here!