I was trying to help someone find a companion dog that was just right for her experience, needs and circumstances, when she told me that someone else had warned her not to get a shelter dog because they were all "damaged goods" and would not make good pets.
This comment frustrated me so much. Just when I thought that the importance of pet adoption was widely understood, I realize that still so many people still haven't gotten the right message.  (I also believe in responsible breeders. How could healthy purebred dogs continue to exist if responsible breeders didn't breed them?)  "Adopt don't Shop" refers to not buying your dog at on-line retailers and pet stores….most of them get their dogs from horrific puppy mills that breed dogs without regard for their health or welfare.
And to be sure, I'm not saying that every adoption will be successful, and that no dogs in shelters have any issues. How could we ever guarantee that.  Not every adoption turns out perfect. But shelter/rescue dogs are worth considering for so many reasons.
Why Shelter/Rescue Dogs are NOT all "damaged goods":
Most dogs end up in shelters/at rescue groups through no fault of their own. The owners have fallen on hard times, are moving where pets are not allowed, or in some way are unable or unwilling to care for the dog any more. Some dogs end up in the shelter is because the owners don't understand the dog's needs. Dogs that bark, chew or destroy property may be bored. Most often the dog and its family would benefit from training classes. Sometimes the dog is surrendered to a shelter because it is not the right fit for that family. That's why good shelters and rescue groups work hard to match a dog with a prospective family. And that's why I was working hard to help this person find just the right dog to meet her needs.
Dogs with special needs have much to offer.  Sure, shelters and rescue groups often end up with some dogs who are old or have a disability that "nobody else wants." But why wouldn't you want a so-called "less adoptable" dog? Dogs who are old, blind, or walk on three legs still offer so much love. We didn't set out to rescue senior dogs, but once we started rescuing them we found that they make our lives better. If we can give back just a little bit of that love while they are still here on earth, it is worth it.
Many rescue/shelter dogs have been given training and support. The rescue group that I work with, Peppertree Rescue, calls themselves "a rescue for dogs of good temperament."  This means that they look for dogs with the type of temperament that would be successful in their new adoptive homes. I feel confident when rescuing a dog from Peppertree that they understand my circumstances as well as the dog's circumstances, and know that it would make a good match. I'm sure there are many rescue groups across the country that look for dogs of good temperament. Rescue groups generally place a dog in a foster home until it can be adopted. Foster parents help a frightened dog gradually get used to new environments. They will work with the dogs on issues such as separation anxiety, shyness and resource guarding. If a dog shows aggression or has a bite history, they may send it to a professional trainer to see if it can be rehabilitated, but they always do their best for the dog and place it with experienced pet parents and no children if there's reason. A rescue dog may come with it's own baggage, but many people have evaluated that dog and will have good advice on how you can help it. Helping a dog with physical or emotional needs is one of the most rewarding things you can do.
 Shelter/Rescue dogs need you.  If people didn't rescue homeless dogs, most of them would end up either in a cage the rest of their lives, or euthanized. No-kill shelters, rescue groups and forever fosters help all they can. But there are still plenty of dogs in need. If you're looking for a dog for your family, please consider looking at the dogs up for adoption on Petfinder, or in your local shelter, or through a rescue group near you.
"It's not always about what a dog can do for you. It's about what you can do for the dog." – Peggy Frezon, author of Faithfully Yours, and The Dog in the Dentist Chair.
It is true that it can be challenging, and time consuming, to find a dog through a shelter or rescue group. They may not have the breed, age or size dog you are seeking when you are looking for one. The person I'm helping is looking for a small, older lap dog. We have potentially found one in Puerto Rico through a rescue group. Also, rescue groups often have strict requirements such as needing a fenced yard or having no young children in the household. But these requirements are to give the dog the best chance at a good, safe life. Also rescue dogs can be expensive– a couple hundred dollars up to $800 or more. But this generally covers a medical examination, shots, treating any current illness or condition–sometimes even surgery, microchipping, and initial training.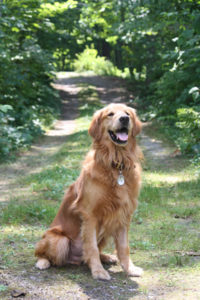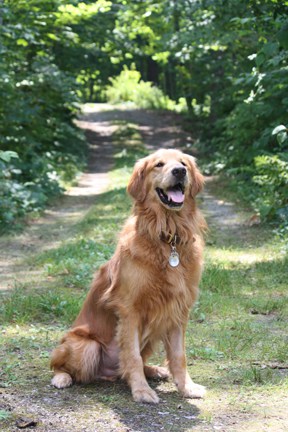 Consider our first rescue golden retriever, we named Brooks. Brooks was 11 years old when we rescued him, skinny and malnourished, had been abandoned and on his own for months. But Brooks-
Learned a new name, and new routines, without any problem. An old dog can learn new tricks.
Had no behavioral issues–didn't bark or cry or shy away from things. This is not always the case, but in this case, even though he'd been through a lot, he was the easiest and sweetest dog to live with.
Got along with our bossy female dog. He just deferred to her like a gentleman.
Fit beautifully into our family.
Showed us more love every day than we could ever have imagined.
Even though he wasn't with us for more than a year before he died, he made that year the best for us. And we hope that we made that year the best for him.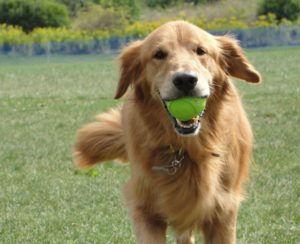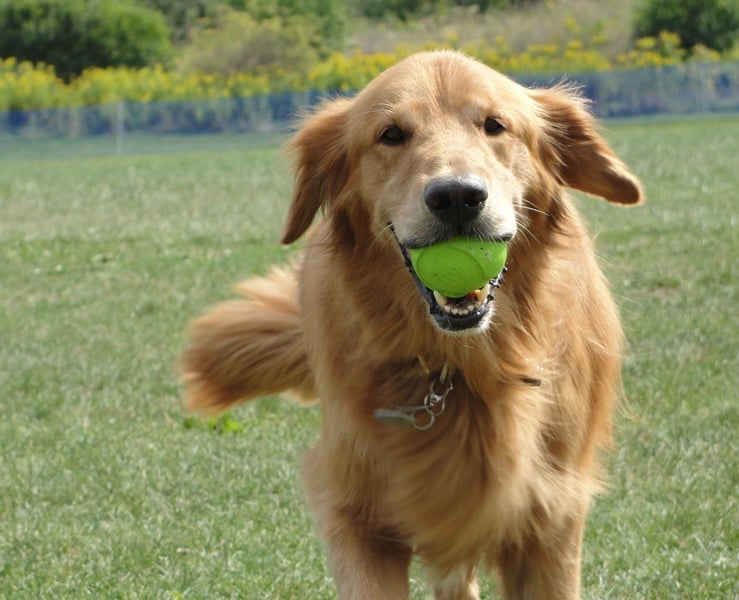 What about you? What have your experiences been with adopting a shelter/rescue dog? Were you able to find the type of dog you were looking for? Were you matched with a dog who surprised you? How did it make you feel to save the life of a homeless dog? If you've had issues, do you think training or education could have helped? Did you feel you had someplace to turn to help you with your concerns?