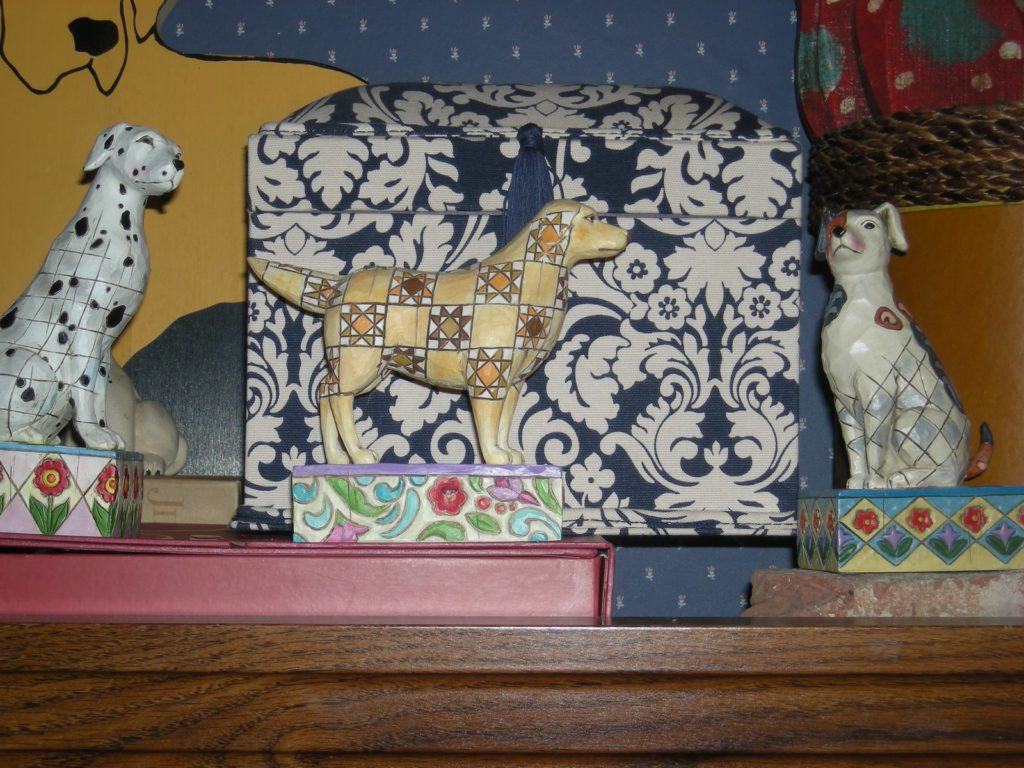 When I was a little girl, I had a collection of seashells. I lived in a city in Vermont. I'd only been to the ocean, Cape Cod, once. My grandmother lived in Florida, and occasionally she'd send me shells she picked up off the beach. I didn't have a huge connection to the sea, but for whatever reason, those shells were my treasures. And guess what? I still have some of them in a shoebox in my closet. I really should put them out somewhere.
I'd like to be a collector, but I don't really have the space. But I do love to decorate (wherever I can find the space) with special objects, things that are personal and meaningful. For Christmas this year, my husband and I received two beautiful dog statues created by the artist Jim Shore. One, a yellow retriever with a folksy quilted pattern that represents our old dog, Hudson. The other is a terrier type dog, as close as you can get to our mixed-breed Kelly. We cleared off a space on top of a bookshelf to display the dogs, and then added a third dog, a dalmatian to represent Schuyler, our first dog. We really enjoy seeing these statues up on the shelf and reminding us of the dogs in our life.
Do you have a special collection? Something to represent your love of dogs, or otherwise? I'd love to hear!
Paws for Reflection: Beautify your work space with a collection of something that makes you feel good. It may be photographs of family, seashells from a trip to the beach, or notes written by your children.