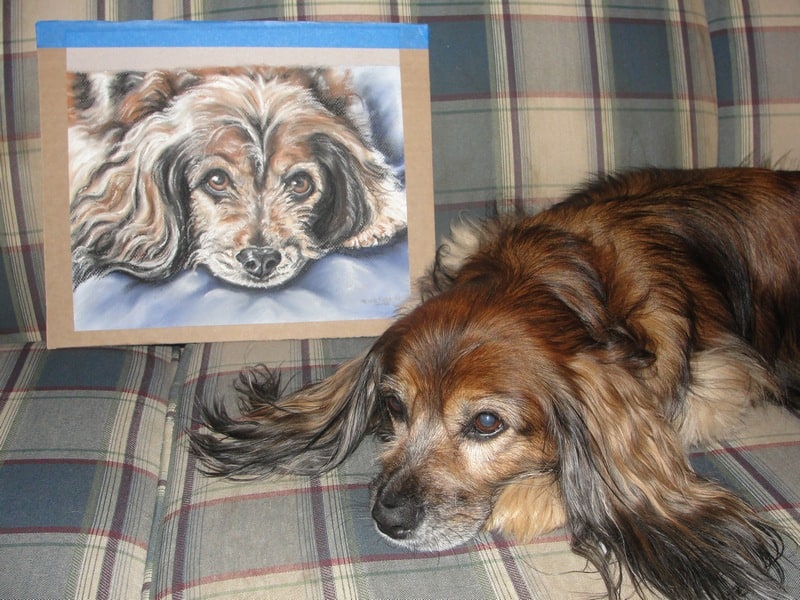 Beautiful likeness!
One of the most exciting surprises I found in my HollyWoof gift bag (See my review of all the products I sampled at Dog Goody Bag.) this past summer was a certificate for a beautiful custom pastel dog portrait by artist Mechelle Roskiewicz of Loved Dogs Art.

I was to receive one 11 x 14 portrait of one of my dogs. First I had to decide which dog. Kelly? Brooks? Or maybe one of our dogs gone over the rainbow bridge– our yellow lab Hudson, or our dalmatian Schuyler? Finally we decided we'd like the portrait of Kelly and sent in a few photographs. I waited excitedly for the results. And then, what luck when I discovered that Mechelle lived only an hour away! And we had plans to be in the area. So I was able to pick up my portrait in person. I only wished that Kelly would have been able to join us, but she wasn't along for the trip.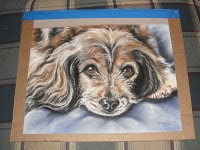 Pick-up day I knocked on the door of Mechelle's lovely Victorian home and was greeted by two absolutely adorable Cavalier King Charles Spaniels, Lily and Ella. Then Mechelle brought me up to her studio to show me the painting. To say that I love it is an understatement. She captured not only Kelly's appearance, but her personality as well. It's just beautiful! I can't wait to have it matted and framed, and find a perfect place in my home.


If you're looking for a portrait of your dog, or one for a gift for someone special, I highly recommend Loved Dog Art. Check out her website and Facebook page. You can click to see more examples at Loved Dog Art. She did a fantastic job for us.
Thank you Mechelle!