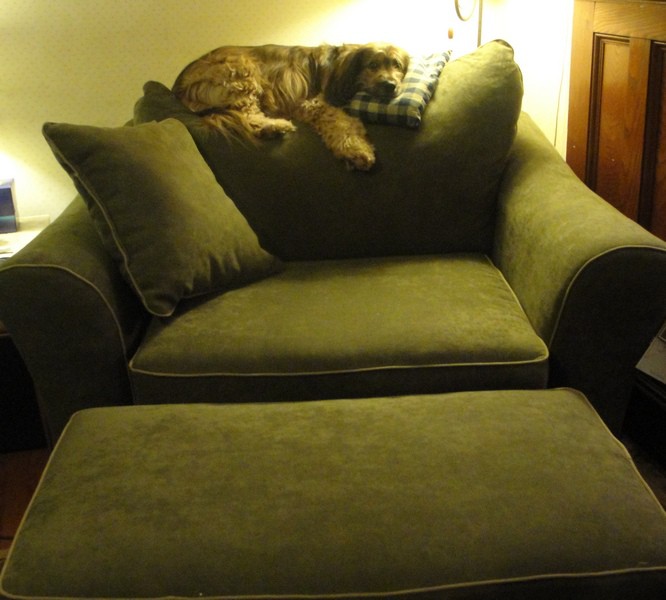 Kelly taking her seat to watch a good movie
Pawing through the Alphabet
M is for Movies
Take your Brad Pitt, take your George Clooney. Give me a movie with an adorable dog in it, and I'm hooked. It doesn't hurt to have Brad Pitt also, but just be sure there's a dog! When it comes to movies, dogs–and cats, horses, elephants, penguins–steal the show.

Last year, my mother and I put on a DVD of Benji movies. Wow, they were bad. Trite, poorly acted, melodramatic. But, Benji was adorable, and so clever–real dog tricks that were fun to watch (and made Kelly look like quite the slouch.) It didn't make up for the contrived plots, but I've sat through worse entertainment. I'm just saying.
When it comes to great dog movies, I can't forget Old Yeller, Sounder, and Lassie. (But it's been so long since I've watched them.) Here are some more of my favorite animal movies:

The Incredible Journey (the 1963 version). Here's one with dog and cat actors. I watched this first in school, and was so embarrassed when the teacher turned the classroom lights back on and I had tears running down my cheeks. But I needn't have worried–I wasn't the only one!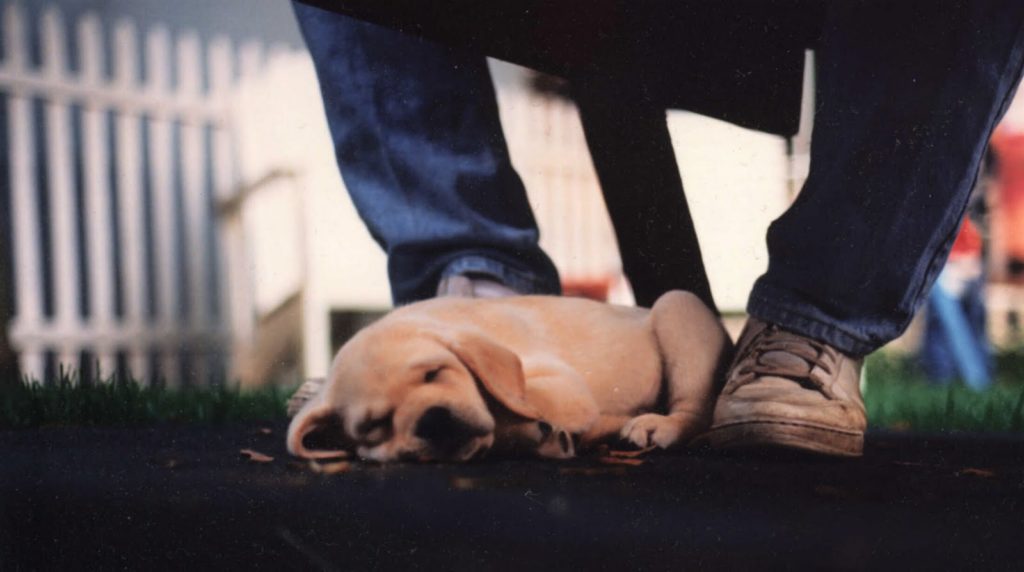 My very own Marley, Hudson
Marley and Me— Say what you will about the story line, or whatever. I love Marley the puppy, Marley running on the beach, Marley chasing people and kids around. This movie got to me. For many reasons, and not only because I had a yellow lab and sat holding him as he crossed the rainbow bridge.


Lady and the Tramp— Oh my gosh, the scene with the spaghetti…sweeeeet! There couldn't be any cuter dogs and (Spoiler Alert for the one person who has never seen the movie!) the Lady/Tramp puppies at the end. Even if they are animated.
Eight Below— This movie wins points for the relationship between the sled dogs and handler, the dogs' will to survive, and of course the tearful reunion.


Born Free-– Okay, so it's not about domestic cats, but this movie goes down as my all-time favorite animal movie. For most of my childhood, I wanted to be Joy Adamson.


A couple honorable mentions:
Hachi— The movie itself wasn't great, but the devotion of Hachi still tears me up. Reminds me of a book I read, Greyfriar's Bobbie.
To Dance with the White Dog– I think this was a Hallmark Hall of Fame TV movie, but I remember liking it. The man thinks the white dog is his deceased wife, come back with a message.


Ring of Bright Water-– I don't know if this one holds up over time, but I remember loving it when I was a kid. It was about an otter, and the neighbor man with a shovel, and there were tears…but I'm sure it ended happy.


Another animated dog I really like is Disney's Doug from Up!

So what about you? What are your favorite animal movies?