I'm not much of a cook for myself, so when it comes to cooking for my dogs, well….it had better be something super simple.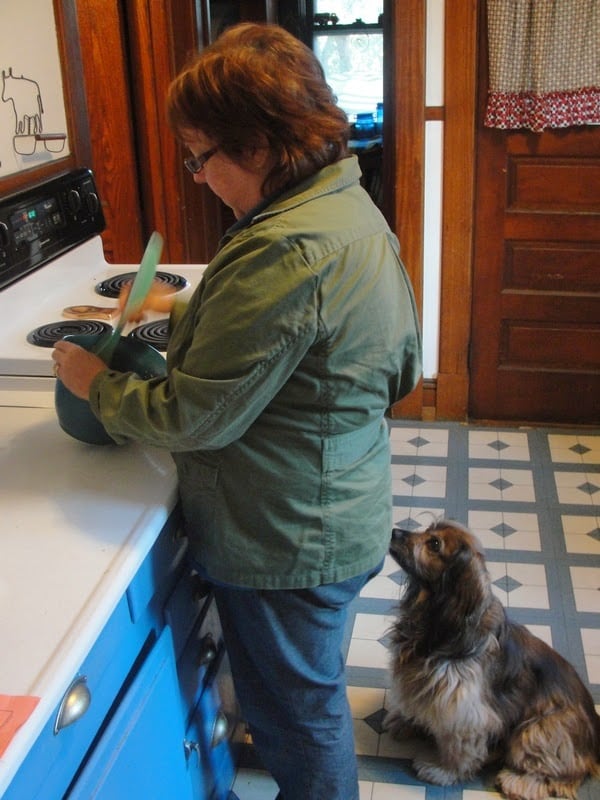 It's always nice to have a helper in the kitchen!
I'd hear about my friends who use a dehydrator and make all sorts of healthy snacks for their dogs–dried fruit, veggies and meat. It seems like a great tool for someone like me. We tried this recipe for:
CRANBERRY TURKEY JERKY
All you need is:
Turkey Breast
Cranberry Sauce (chunky, not jelly)
How to:
Slice turkey breasts thin (about 1/4″). Stab all over with a fork. Seal in a plastic bag with cranberry sauce and let marinade overnight.
Dehydrator Method: Lay out slices on dehydrator tray and spoon a bit of sauce over the slices. Dry for around 12 – 15 hours, until dried through.
Oven Method: Preheat oven to 175 degrees. Line a cookie sheet with foil. Lay turkey slices on tray. Spoon a bit of sauce over the slices. Dry for around 12 – 15 hours, flipping occasionally, until dried through.
Since I don't have a dehydrator, I made mine in the oven. I set an alarm so that I'd remember to flip them every few hours.
This is a simple recipe, the only drawback of course is that it takes a LONG time! But, you end up with a great treat for your dogs and you don't have to worry about where it's made and the health standards of some factory somewhere. You know it's healthy fresh from your own kitchen! Kelly and Ike loved the turkey jerky. It almost makes me want to cook for them more often!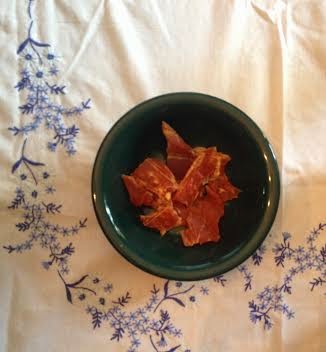 Turkey Jerky, anyone?
If you want to try some cool recipes of your own, you can win an Excalibur dehydrator on Kol's Notes!
Want
more positive pet tips, good news, and special offers? Fetch
my free newsletter, Pawsitively Pets. Kelly and Ike
hope to see you there!