Chicken Soup for the Soul Pet Food recently donated 3,854 pounds of their nutritious
pet food to help feed rescue animals at the Humane Society of Scott County (HSSC)
in Davenport, IA. The donation is part of the pet food company's Fill A Bowl… Feed A
Soul™ (FABFAS) program, a national campaign targeting the donation of one
million meals to shelter pets annually.
"When searching for a rescue
organization to assist, we often turn to our dedicated independent pet specialty
retailers to help identify animal shelters or foodbanks in their neighborhood,"
said Jeanne Blandford, Director of Marketing for Chicken Soup for the Soul PetFood. "In this case, we reached out to Theisen's
Davenport Store and manager Jim Gable."
"Not only did Theisen's direct us to
the Humane Society of Scott County," continued Ms. Blandford, "but because HSSC
is a smaller rescue without a loading dock, Theisen's accepted the nearly two
tons of pet food at their Davenport store and then delivered it directly to the
shelter. They used their own staff and volunteers. That shows true commitment
to the dogs, cats and the Davenport community as a whole."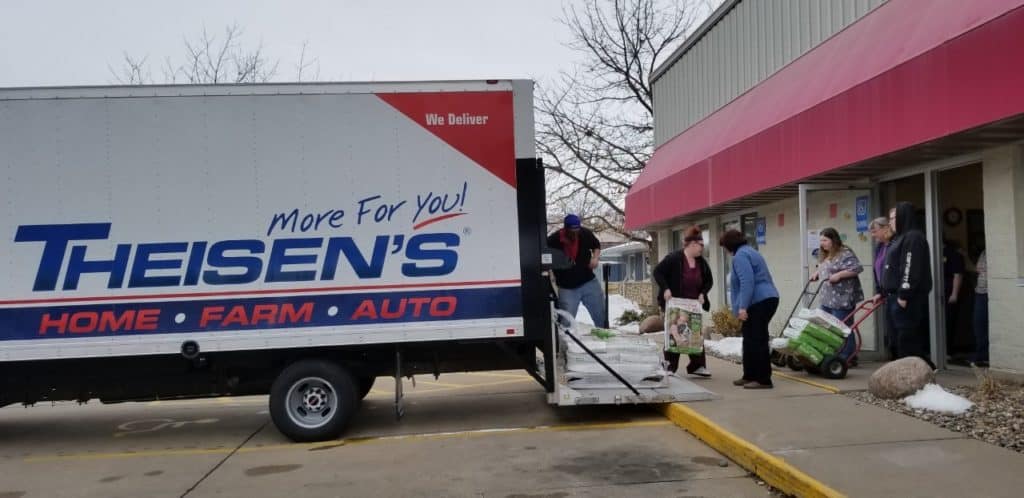 Volunteers unloading the donation.
Pamela Arndt, Executive Director of
the Humane Society of Scott County thanked Chicken Soup for the Soul Pet Food
and said, "Their donation of cat food came at the perfect time as our supply
was getting low. The donation of grain free dog food is fabulous as we are seeing
our dogs responding better on grain free food."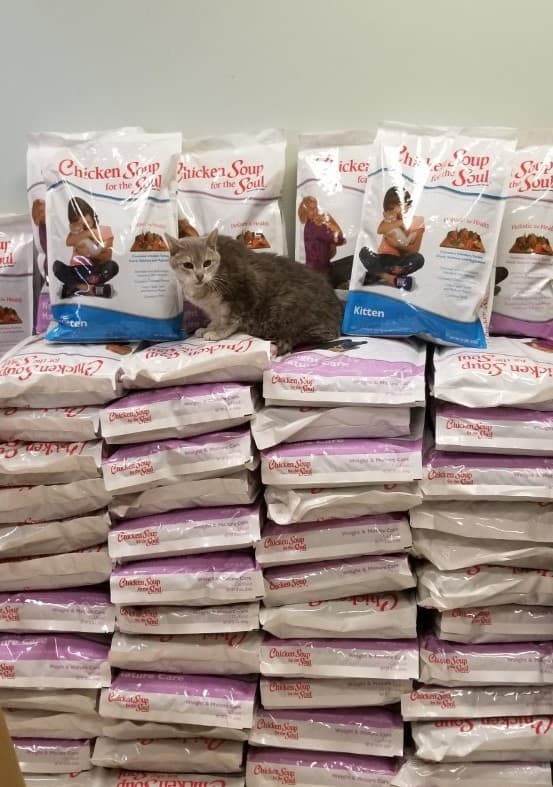 Adoptable cat Ambrose
About
Chicken Soup for the Soul Pet Food
*Real meats (chicken, turkey, duck
and salmon), fruits, vegetables and herbs
*No corn, wheat, soy, artificial
coloring, flavoring or preservatives
*Core and grain-free formulas
A rescued shelter pet is featured on
every bag. A portion of all proceeds from the sale of Chicken Soup for the Soul
pet food goes to help shelters and pets in need through Chicken Soup for the
Soul's Fill-a-Bowl … Feed-a-Soul™ program.
Like Chicken Soup for the Soul Pet
Food on Facebook
:
www.facebook.com/ChickenSoupfortheSoulPet/
See Chicken Soup for the Soul Pet
Food on Instagram:
www.instagram.com/ChickenSoupPets
Photo
provided by Humane Society of Scott County
Photo
provided by Humane Society of Scott County
Theisen's
employees and volunteers
Photo
provided by Humane Society of Scott County