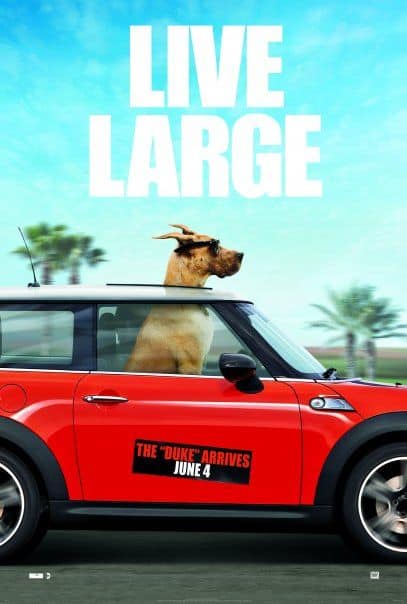 Marmaduke the movie hit the big screen, and after watching his antics and his big, adorable mug, it's easy to fall for this lovable oaf of a breed. Think you'd like a Great Dane like Marmaduke? Meet Shadow!
Because of the popularity of the movie, I thought it was a good time to rerun this blog about a real-life Marmaduke, Shadow.
Shadow was adopted into a family with a big house and a big yard, and a stay-at-home Mom for plenty of attention. At just over 6 months old, she currently weights in at 80 pounds. Her mom, Ellen, describes Shadow as being "counter height." Well you can just imagine what that entails. Shadow can pretty much grab a snack from the kitchen counter, select a book to shred off the living room shelf, or help herself to some towels off the rack in the bathroom.
Ellen adopted Shadow from a local animal shelter. A family had turned in the beautiful ebony dog because they had no time for her after having a (human) baby. Since Ellen's veterinarian knew that Ellen owned a Great Dane previously, she contacted Ellen to see if she'd be interested in adopting this big baby. The vet knew that the dog would need an owner experienced with the breed for the best chance of a successful adoption.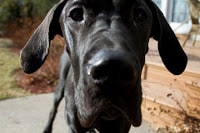 "They just want to be close to you. They think they're lap dogs," says Ellen. She offers these tips to anyone thinking of adopting a Great Dane. "Be prepared for large housebreaking accidents, large dog food bills, chewing of woodwork, and lawn destruction. Crating is highly recommended, but large crates can be expensive. Most of all, be prepared for a short life span."
Ellen's previous Great Dane, Violet, lived until 6 years old. Life expectancy is about 8 yrs.
For Shadow, the transition from shelter to forever home has been fairly easy. She gets along well with her new siblings, a pug and a German Shepherd. She loves to leap…even over the Shepherd. And her favorite pastime is stealing food off counters. She loves all food, "even the apple she stole off the counter this morning."
For Ellen, th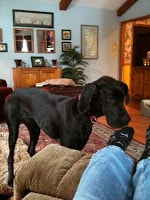 e main difficulty has been in housebreaking an older dog with already established routines. "The only command she seemed to know was SIT." In addition, Shadow had some dietary issues that were resolved after experimenting with different dog foods. Putting two and two together (get it? ugh!) I can imagine that the dietary issues and the housebreaking issues led to some big clean ups!
Shadow is expected to grow 4 more inches in height, and to weigh about 120 pounds.
The biggest problem Ellen continues to face with Shadow is chewing. Some of the items Shadow has snacked on recently: the SUV's steering wheel, kitchen woodwork, a bottle of apple cider vinegar (followed by a bottle of pina colada mix), sneakers, sandals, an entire bag of granola, my watering can, a hose, a hose sprayer, my newly planted flowers…. "and I'm sure I'm forgetting some."