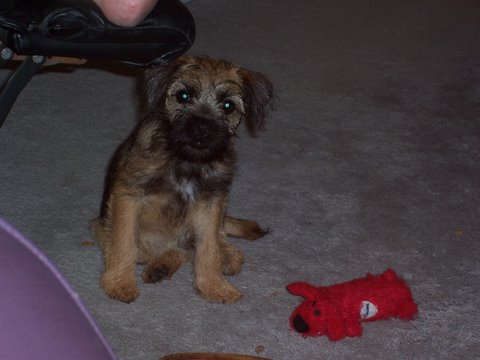 When it was time to add a new dog to the family, Judi never thought she'd get a Border Terrier (the dog from the movie "Something About Mary.") But Ruby has proven a wonderful addition to her family.
Q: So how did you end up with a Border Terrier?
Judi: Last spring we were at the train station and noticed two cute dog faces in the window of a car in the parking lot. The dogs turned out to belong to one of our friends. He offered to show us some newborn Border Terrier puppies that his friend was raising. The litter, born April 20, resembled a bunch of black hamsters. One had not been claimed and we agreed that, having seen the family and how they were being cared for, this was our dog. We read about the breed and that confirmed our sense that she would fit into our lives. At 8 weeks old, weaned and ready, we brought her home.
Q: What is the funniest thing Ruby does?
Judi: Ruby makes us laugh all of the time. She sticks her head in my pants and stockings when I dress. She barks angrily at the toilet brush. She has funny expressions, and she loves to "wash our faces," including our nostrils and ears! We can't breathe but are laughing so hard as she intently licks us!
She is small but jumps very high in the air and can lunge into my lap, even when I'm sitting on a high stool!
She also fell in love with a German Shepherd at training classes, even though Ruby is the size of the Shepherd's head. Her obedience teacher referred to her as a "Border Terrorist."
Q: What is Ruby's most difficult training challenge?
Judi: She mastered housebreaking easily, but did not do well with crate training, resorting to the breed's characteristic whine, sounding like a violin. We continue to work on "stay," an important command for her safety and impulse control. She is a stubborn terrier. Getting her to sit quietly in the car is our biggest challenge.
Q: What have you learned from Ruby?
Judi: We have learned new patience and the power of positive reinforcement from Ruby. She has brought us the joys of unconditional love and the delight of endless laughter.
Thank you Judi for telling us about Ruby. If you have questions for Judi, feel free to leave a comment here.