For Firefighter Dayna Hilton, the biggest blessing is knowing that Sparkles the Fire Safety Dog saves lives.
Dayna is serving her 10th year as firefighter with Johnson County RFD #1 of Clarksville Arkansas. She loves her job, but what she loves most is educating children to help keep them safe. And that's a mission Sparkles helps with every day.
Unfortunately, Sparkles started off in a hoarding situation. Living with 62 other dogs in Oklahoma wasn't easy, but Sparkles strong spirit shone through. Luckily, Dayna Hilton came along, scooped her up, and offered the pup a fur-ever home and a job.
As part of the department's Fire Safety Team, Sparkles assists with educational programs, appears in schools and on videos, and helps children understand what to do in the case of a fire emergency–such as recognizing the firefighter and crawling low under the smoke.
When little 5-year old Angelica Riggins of Tulsa Oklahoma awoke to smoke and fire in her home, she remembered what she'd learned from a recent presentation by Sparkles. Angelica says: "I was in bed under the 'cobe
rs' and the smoke came. I crawled out of bed and crawled low, just like Sparkles showed me to. I said, 'Come on Daddy, you have to get on the floor and crawl low like Sparkles.'" As soon as the two made it out the front door, the home erupted in flames. Thanks to Sparkles, everyone was safe.
Media Hound
Sparkles has participated in a Congressional briefing in Washington DC, appeared in magazines such as Cesar's Way, and FIDO Friendly, and on television including FOX and friends, and PBS KIDS Sprouts.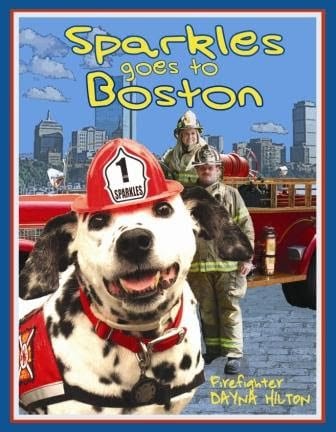 Sparkles also stars in his own books! Dayna is author of two books about Sparkles, Sparkles the Fire Safety Dog (also available in audio book) and Sparkles Goes to Boston. A portion of the proceeds from the sale of the books goes to Sparkles foundations to keep kids fire safe.
I'm happy to get to know Dayna and Sparkles. Way to go with your pawesome work educating children in fire safety!
Check out Sparkles' blog, Facebook page, or Follow Sparkles on Twitter.