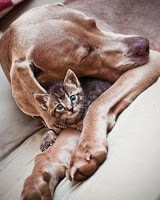 Hi and welcome to Monday Pet Roundup!
*This picture is one of the contest winners from Pet Happy! Find more of the cutest pet photos here.
* I love learning about interactive toys that might keep my spaniel Kelly amused and involved. The Pet Blog shares this review of Linkables. Looking at the pictures, I wonder how the dog is able to get the treats out? Maybe I'm not as clever as a dog.
* Traveling with your pet? Where does your pet travel? My pet peeve is dogs riding loose in the back of a truck. I see it all the time, even on the highway. Check out these great pet car safety tips from Will My Dog Hate Me?
*If you feed your cat Iams Proactive Health cat food, you'll want to read this recall notice, posted on Petfinders blog.
* Sweet dog needs a home: Ebony, a Labrador mix, was surrendered by a family that came upon hard times and had to give her up. She's only 6 years young, 60 lbs, with no behavioral problems. She loves dogs, cats, children and everyone! Right now she is living in the Manhattan area. Photos available. Contact me if you can take her in. Thanks!
*Love this recipe for chicken dog treats. Easy! I'm going to try making them for Kelly.
*Note: The winner of the sample bag of Red Moon dog food was unable to be reached, so according to the contest rules a new winner was drawn. Congratulations to Cheryl-Arizona Beagle Rescue! I've sent you instructions on how to claim your prize.
What about you? Does your dog play with interactive toys? What do you find challenging when traveling with your pet? And, can you provide a home for Ebony?