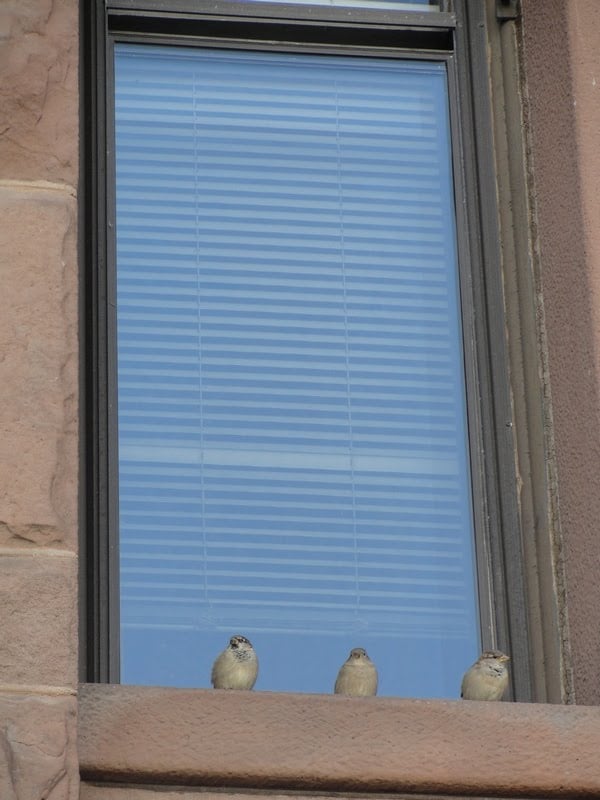 Hi and Welcome to Monday Pet Roundup!
* I saw these birds while on a walk downtown Saturday. They were perched so cute on an office building window sill.
* I'm so excited because today I'm announcing the contest winners of A Dog's Purpose book and a pet-friendly Frisbee. Thank you so much for all the great and thoughtful responses. Here are some of the wonderful endings to the sentence: A dog's purpose is-
to love us
to show us what a best friend is
to make us happy
to teach us
to protect us
to help us discover our inner dog.
* $100, $700 or even $1,000..Ark Animals blog explores why buying a pet can be expensive. Are you willing to pay? And do you think a shelter pet should cost less than other pets?
* With pets so expensive, little shock that they are sometimes the object of illegal practices. Thieves stole several rare birds from a pet shop in the Chicago are. One suspect was seen on surveillance camera taking a parrot out of its cage and putting it in her purse. Good news: the birds have all been safely returned.
* Is this place for real?! You may have seen the pictures going around the web of hundreds of cats and teeny tiny replica houses. From greenplanet.com, find out more about the man who built Caboodle, a cat village–complete with little houses, a church and Wal-Mart–for homeless cats.
And n
ow, the contest winners! Thank you so much to everyone for entering, I wish you all could have won. I'm delighted to announce the winners, CONGRATULATIONS! Please send your mailing address to me at peggyfrezon (at) gmail (dot) com and I will get your prizes right out to you.
For the first place drawing, A Dog's Purpose by W. Bruce Cameron, the winner is:
Gloria
The second place winner, a dog-friendly Frisbee, goes to:
Benny and Lily