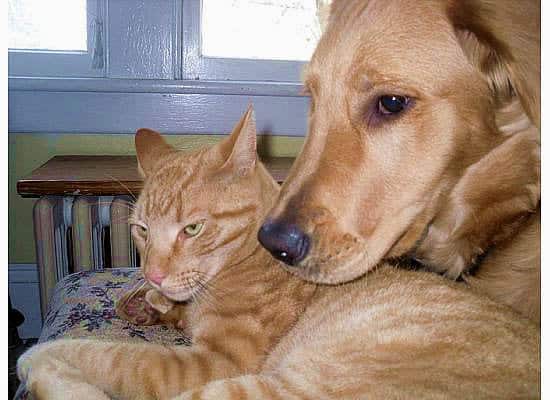 Hi and Welcome to Monday Pet Roundup!
*This great photo was taken by Caroline Benzing. Thank you Caroline!
*Recently we inquired about an elderly friend and learned that she'd been injured, and pretty well banged up, because she'd tripped over her dog. Turns out this is not that uncommon. Fox News reports that there are more than 80,000 reported incidents of tripping over pets a year. Dogs were involved in nearly 7.5 times as many injuries as cats.
*In Farsley, UK, a cat is creating havoc of another kind. Digital Journal reports that, when the postal worker comes to a particular Farsley house to deliver the mail, the cat jumps through the cat door and attacks him! Mail has been suspended to this address.
*Dog Star Daily reminds us that this month is National Stress Awareness month. Stress can affect our pets too. Some pets are stressed at being left home alone. One solution is to leave the radio or calming music playing while your gone. Dog Star Daily also suggests training classes and learning how to become the benevolent leader to help calm dogs.
*I've asked this question myself: Does my dog's warm, dry nose mean that he's sick? Find out from Dr. Lauren Brickman on Petfinder's blog.
*Enter here to win handmade Benevolent Bakery Dog Biscuits! Contest closes April 30th.
Do you have a technique for calming your pets? And, have you ever tripped over your pet?