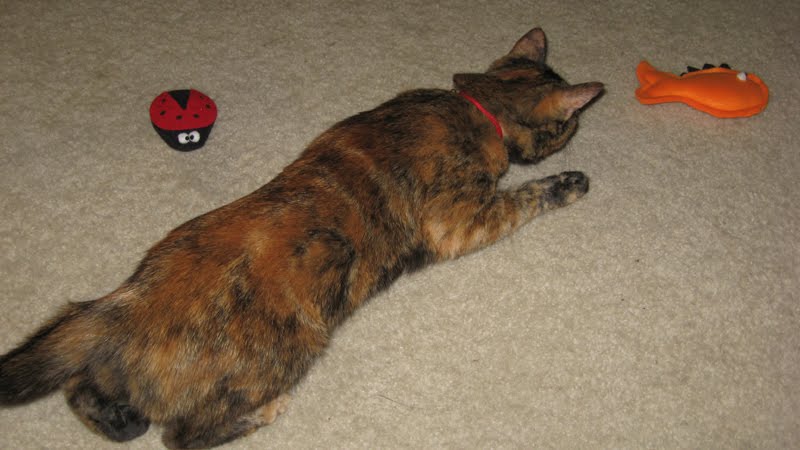 Hi and welcome to Monday Pet Roundup! The model today is my daughter's cat, Cinnamon, playing with some new toys.
* Election season is upon us. Maybe we should consider this way to vote: According to the AP, the Washington (DC) Humane Society held an election that went to the dogs. Bone-shaped dog biscuits with each of the two mayoral candidates names were placed in front of canine voters. The dogs voted by choosing which bone to eat. Some (hungry) dogs voted more than once.
* In more political news, USA Today reports on an adorable rescue mutt Hewitt, who "helps" County Councilman Dave Somers work in his office in Everett, Washington. Wait until you read how Somers acquired the dog.
* Firefighter Dayna Hilton and her dalmatian are doing great work educating children about fire safety. If you know any kids who like to color, check out her new Sparkles the Fire Safety Dog Coloring Book . It's a great way to spread the fire safety message to children. Congrats on the book, Dayna and Sparkles!
* Love cats? I hope you've seen this UK Ikea advertisement, gone viral on You Tube with more than 600,000 views so far. These are some beautiful cats. Check it out here:
* I think a parrot would make a great pet, but I have no idea how to care for one. Here, Martha Stewart and an animal expert offer a brief introductory video about owning an African Grey Parrot. Did you know they like to be misted with water?
* If you enter this contest, you could win $500 worth of pet care services. Just send Fetch Pet Care a paragraph and/or photos or video to show "How far would you go for your pet?"
What about you? I think we all would do just about anything for our pets, but can you go too far? How far is too far?
And do you think dogs can do about as good job selecting a politician as anyone? lol