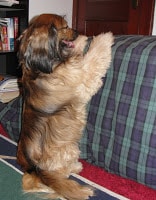 Hi and welcome to Monday's pet roundup.
* Like most little kids, I always wanted to have a pet chimp. Of course, not many kids get that opportunity. And, we can't help but think of those awful cases, such as the recent one of the pet chimp (possibly amped up on Xanax) who went off and attacked its owner and a friend? Well now some states have approved a ban on primates as pets. I agree. Do you?
* Ok, so if not chimpanzees, what animal makes the perfect pet? This article in on abc news may surprise you!
* Here's a backyard chapel where a Buddhist minister and his wife, an interfaith minister offer blessings for pets. "May all beings be well and happy," says Rev. Branson, "and may all beings find peace."
* Why not jump over to a great new blog "One Year. 156 Fears. Life Changing." Although not exclusively about pets, it is a great blog, and I bring it to your attention today because I was fortunate enough to be interviewed there today! Joy tackles three fears every week–from the biggies like ice climbing and parasailing, to the smaller fears like telling someone that they cut in line—and blogs about her results. Her efforts will inspire you to take risks in your life. She also includes interviews, and today you can discover who I find inspiring (hint: one answer is a profession that many of you may hold.) and why I love to write about dogs!
What animals do you think make the best pets? Have you ever had your pet blessed? And, which animal-people do you find inspiring?