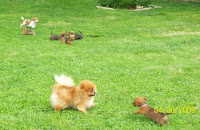 Hi and welcome to Monday Pet Roundup!
*Did you know this week is Rabbit Awareness Month? The focus of this year's campaign is rabbit obesity. Even too many carrots may not be a good thing. Visit this site to learn more about rabbit obesity.
* Top Ten Pets. Does it surprise you that rats are on the list? Live Science shares the list, including my favorites (dogs, guinea pigs) and my not-so-favorites (tarantulas).
* I hate reading about animal cruelty, but glad to learn that some laws regarding animal cruelty are being strengthened. UPI's spotlight on animal abuse reports that in the United States, dog fighting is illegal in all 50 states, and it's a felony to attend dog fights as a spectator in 20 states. More than 46 states currently have felony laws against certain acts of animal cruelty. In China, a proposed "Anti-Animal Cruelty Act" would pose penalties for starvation of animals, and ban the slaughter of animals in the presence of minors. And in New Brunswick, Canada new laws for the licensing and inspection of pet shops, animal shelter and kennels will be in place starting June 1st.
These laws are important. According to UPI, "Animal welfare experts caution that cruelty to animals often is a precursor to violence against humans…"
* Does your dog like to run, I mean really run? Would your dog benefit from some strenuous exercise? Learn more about Flyball. Behind the Behavior blog posts a really good overview of the sport, the benefits of flyball, and how you can get involved.
Has your dog participated in flyball or other agility sports? What are your views on the cruelty to animal laws? And, if you have a rabbit, do you find that rabbit obesity is a problem?