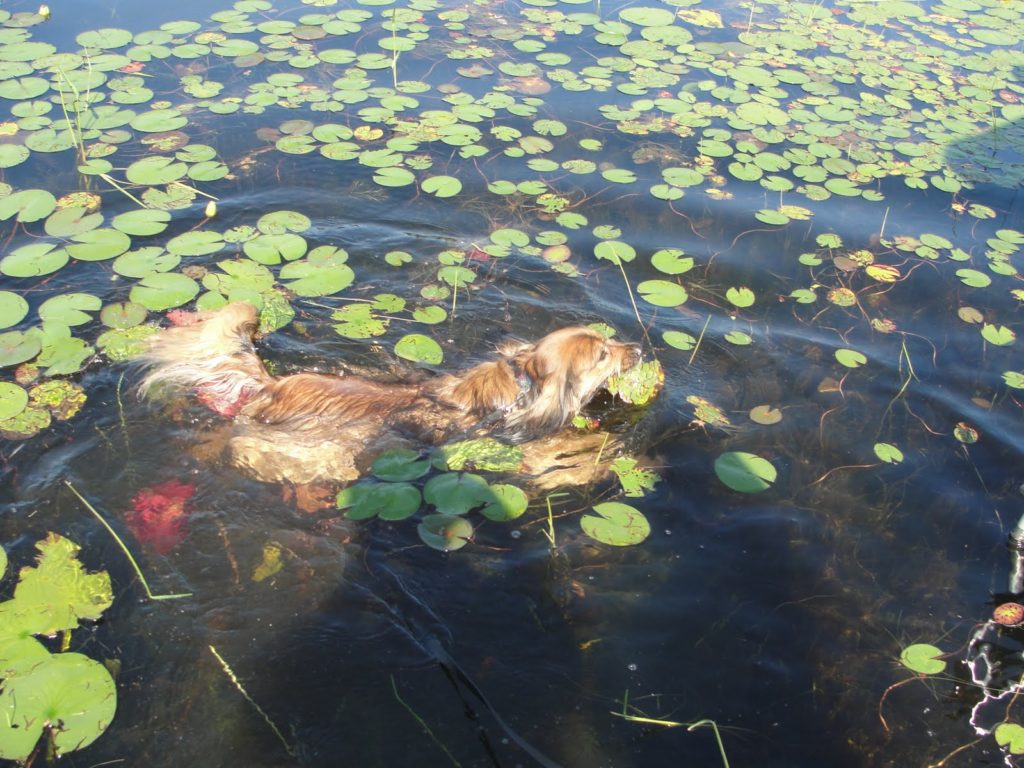 Hi and welcome to Monday Pet Roundup!
* A few weeks ago I wrote a column about the top 5 summer fun activities your dog can do, too. The list included swimming (Here's Kelly swimming among the lily pads!), summer camp, and even getting ice cream from the ice cream truck. Now, here's another activity to add to the list: playing in a water park. The Bora Bora Club, located in Sun Valley California, is the first water park exclusively for dogs!
* It looks like three friends–a runaway coat, Great Dane, and a three-legged Labrador Retriever— will have a new home together. The Dallas News reports.
* Which dog is right for you? Carol Bryant from FIDO Friendly magazine will help you decide this Tuesday on the Gayle King Show Click on the link or tune in XM 156/Sirius 195 from 9am to 11am EST on(Rebroadcast at 2pm and 9pm EST).
* What would happen if your pet met up with a bear, or coyote, or even a raccoon? Dfs Pet Blog reminds us that this can happen even in urban backyards. Here are some hints on how to keep your pet safe from wildlife.
* Do you think we need more animal cruelty laws? Dog spelled forward blog suggests better enforcement of the laws we have.
* Finally, a dose of cute. Who do you think would win the standoff between a cat and several adorable golden retriever puppies?
What about you? Would you bring your dog to a dog water park? Has your pet had an encounter with wildlife?