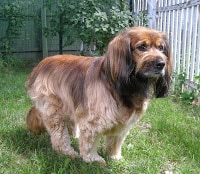 Welcome to Monday Rufferences and Mews!
It may not be practical–or desirable–to get your kids a puppy or kitten for Christmas. But never fear, the hot new trend this year might appease your kids' desire for a pet, while saving a fortune on dog food. Enter this year's must-have holiday toy, Zhu-zhu pets, little robotic hamsters that have their own tracks, balls and play systems. What do you say, Yay or Nay?
A great idea from the Humane society of the United States is to put together a pet's first aid kit. Why not put one together for a great holiday gift for any animal lover?
Has your cat grown finicky, refusing to eat it's food? Or developed an allergy? Here are some tips for switching your cat's food.
Need some help around the house, or just a good laugh? Check out these videos of cats doing windows, dishes, even vacuuming!
There are so many working dogs for people with disabilities, our seniors, and assisting our police forces. Here's another type of working dog. Meet Bailey, a reading therapy dog.
If the dog or cat hair is becoming a problem, help is on the way. Check out this helpful article on the Furminator and other pet grooming tools.
What do you think? Will you be purchasing a zhu-zhu pet this Christmas? What do you keep in your pet's first aid kit? And, if you use the Furnimator or other similar tool, how do you rate it? I look forward to your comments.
Check back next week for more Monday Rufferences and Mews!