I bet many of you have written about your pets, and thought you'd like to write a book starring that furry, lovable, sweet creature who's close to your heart. If so, you'll enjoy visiting the blogs in this new blog tour, #mywritingprocess, where you'll connect with authors, magazine writers, and others who have made their dreams of writing about their dogs (ok, and lots of other topics, too!) come true.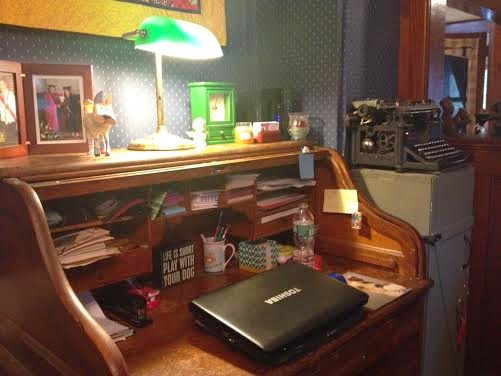 My books begin here, at my messy but beloved rolltop.
I'm honored to be invited to join in this tour. I was asked by Barbara Techel, whose books about her beloved Frankie the Walk 'n Roll Dog have inspired many children. Her most recent book is a memoir, Through Frankie's Eyes. Please stop by Joyful Paws and visit her blog, and learn what she's up to now.
To participate in the hop, I'm supposed to answer the following three questions.
1. What am I working on?
2. Why do I write what I do?
3. How does my writing process work?
You might be surprised by some of my answers. AND I'll reveal the title of my new book for the first time!
1. What am I working on?
Okay, well this one won't surprise you that much. It's a book about dogs. And cats, and horses, and monkeys, and pot bellied pigs, and rabbits. Here's the big reveal. I haven't told anyone the title of my new book yet. Why? I don't know, I guess I just didn't want to give it away until it was closer. But now seemed like the right time, and anyone faithful enough to read through this post to learn more about my writing process deserves the inside scoop. The title of my fourth book is, Greetings at the Front Door: The amazing power of the human animal bond. I'm so excited about this book, it's filled with true stories about why we love animals, and how animals love us back. The book is being published by Paraclete Press, due to be released in fall 2015. I hope you look for it then!


2. Why do I write what I do?
This is the one that might surprise you. I bet you're thinking I'm going to say I write what I do because I love the topic so much. That's only partly true. I do love the topic of dogs, pets, and animals. There's nothing I love to write about more. But there's an incredibly wide range of books that can be written within that broad topic. If you've ever scanned the Amazon listings under "animals" you know what I mean. The book topics I've written about so far have come to me. Here's the picture-I've set out to write one thing: fiction. I love writing fiction. I love creating characters and settings as exciting and deep as my imagination can go. But every time I get geared up to start a new novel, some intriguing non-fiction opportunity comes my way, and the opportunity is too good to be ignored. I write what I do because, to the best of my knowledge, it seems to be what people want to read, and what a publisher wants to buy. But, I won't give up on writing fiction. Some day the right opportunity will appear!
3. How does my writing process work?
Geez, this might be a little too simple, but I wake up, I grab a banana and a Diet Coke (sorry, I know it's not a healthy breakfast) and I sit down and write. My house is small, and my office is in a corner of the dining room. I write on a laptop on my great, great uncle's old rolltop desk. I write and write and write until about noon, when my dogs insist that I stop tapping away at the keyboard and give them some attention. So they force me away from my desk and we go outside and walk, and play in the backyard. Then I come back inside and make lunch (a little healthier this time. I generally like a turkey sandwich and cucumber slices.). Then I write and write and write until about 5pm. The evening is for my family. Sometimes, however, I have been known to sneak in some writing time around midnight. Shhhh don't tell the family.

Part of my writing time is spent on marketing. So time consuming, this marketing! But to be an author, it's important to keep up with developing a platform, connecting with your social network, and going out on speaking engagements. This could take up 598 of your 24 hours in a day. I try to do about two hours in the morning and two hours in the afternoon. There is no end to the amount of time you can spend, and the creativity you could invest, in marketing. When it reflects in book sales, I want to reach out and hug those readers through the computer! And getting emails and responses from readers is also very humbling and makes me feel happy and connected. Thank you!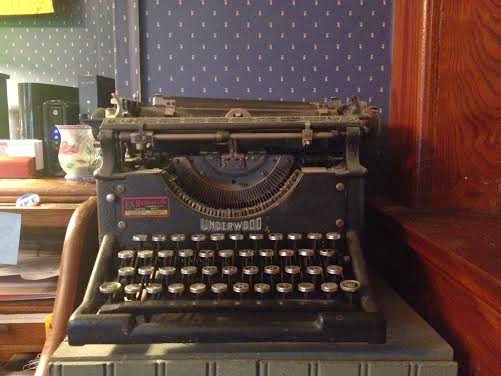 Although writing is done on my laptop, I still prize my old Underwood.
Now, the last part of the tour is to pass the torch along to 3 more writers. Here are the writers who will be blogging on the #mywritingprocess tour next week. Please stop by and visit them next week.
*Dorothy Wills-Raftery– writes about her Siberian Huskies. You might know her from her blog, Five Sibes. Her special focus is on canine epilepsy and canine health.
* Kristin Avery – blogs at Keeping it Real. Her first book is a tribute to the absolutely adorable and lovable yorkie, Mr. Pip.
J.P. Choquette, author of Green Mountain Thrillers. If you like on the edge of your seat fiction, be sure to check her out!
Thank you for stopping by the tour!
*Winners of the book Saved by Gracie, chosen at random by Rafflecopter: Edna Patterson, Kate Voltz, Josh Hoberman, Karen Lyons and Shelley P. Congratulations! Send me your postal address and we'll get the books right out to you.