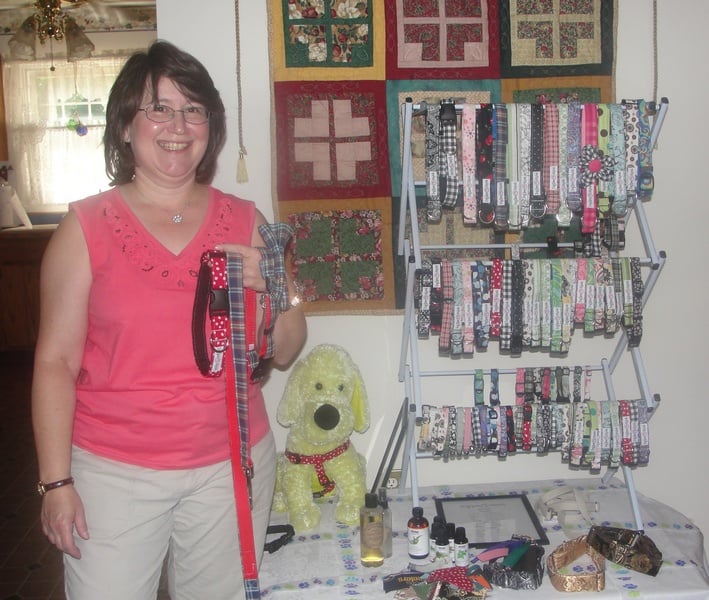 Eileen and some of the products on display.
You know those parties, like Tupperware and Pampered Chef? Well, I went to a Pampered Pooch party! My pal Eileen, mom to adorable golden retriever Zak, held the party which featured products by DogGone Stylish.
Eileen was so nice, making sure everyone was comfortable, playing a few games, and offering adorable prizes wrapped in cellophane bags with ribbons. She also had adorable snacks!
And, she invited me to bring my books, and I even sold a few too! Thanks for everything, Eileen!
We had a lot of fun at the party, looking over handmade custom collars and leashes, and even bows to adorn the collars. The host explained how everything was made and the quality materials she used.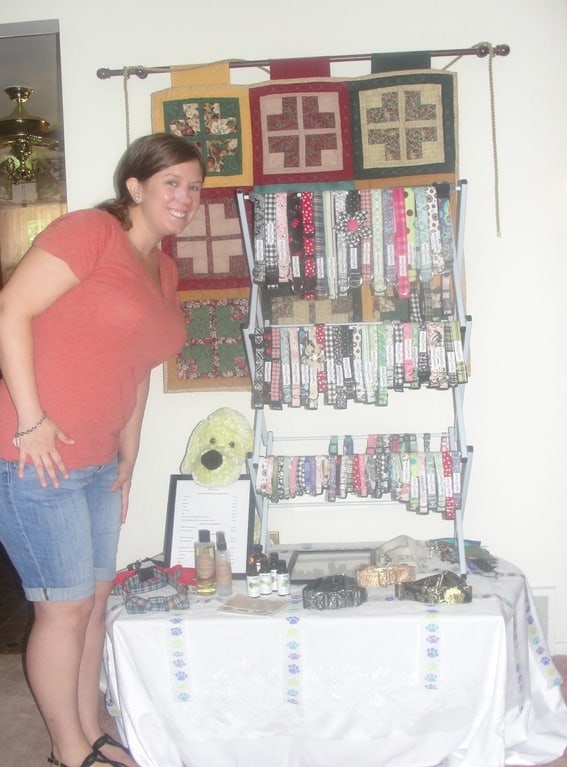 Doggone Stylish
I ended up ordering a 4′ coupler, to allow me to walk Kelly and Brooks and hold onto just one leash.
The coupler is very well made. I had my choice of a multitude of designs and colors. The hardware is quality and secure. I love the clips that– unlike the usual kind that could be forced open accidentally– fit together and overlap securely.
Kelly, Brooks and I went out to test our new leash coupler. Note: I was using regular buckle collars at the time I tried the coupler. Now I'm using a harness with Kelly. I've not yet tried the coupler with the harness.
A couple of issues–
1. I ordered the 4′ coupler because I figured Kelly is small and Brooks is large, so we'd need the extra length. This turned out to be a mistake. The coupler is much too long to work effectively. I should have ordered a shorter length. For now, tying a messy knot in the coupler helps to shorten the one I have.
2. There is a large ring to attach the single leash. I'm not sure why the ring is so large. It wasn't really a problem, I just thought a smaller ring would suffice.
Did the coupler work for Kelly and Brooks? Yes and No (through no fault of the actual product…just my finds in using a coupler).
Pros-
* The coupler allowed the dogs to walk nicely side by side, and prevented tangled leashes. This worked nicely most of the time.
Cons–
* When one dog stopped to sniff or do his business, the other dog suddenly got jerked. I am sensitive to the dogs being jerked on their necks, especially through no fault of their own. So I had to be extra attentive to make sure no dog's neck was being hurt.
* Similarly, if one dog decided to pull to the side, lunge at a cat, visit the other side of the sidewalk, etc, the other dog got jerked. This was not right for the dog who was walking nicely and I definitely worked hard to make sure that didn't happen again.
* I felt I had a lot less control with the leash connected to the coupler. If I wanted to direct one dog away from the fallen crab apples by the side of the road, I couldn't adjust without tripping over the other dog. There was no way to really feel the dog's activity through the leash.
Overall, the coupler is a product that I like for when I want the dogs to walk nicely side by side, but not for when I want to allow them a little space to sniff and explore on the leash. I do feel I had less control with a coupler, but maybe a shorter coupler would help improve that situation.
The Pampered Pooch party had lots of pretty, classy, fun and classic designs you could mix and match. Please visit Doggone Stylish website to see the selection!