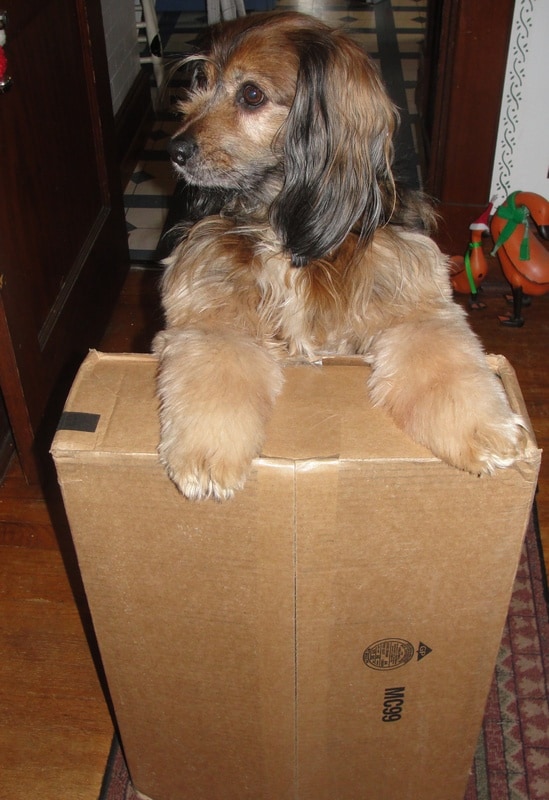 I never considered ordering Kelly's dog food before. I mean, wouldn't that be inconvenient?
Well…I tried it and turns out I was wrong. I visited this cool site called Mr. Chewy and discovered that ordering pet food can be easy, quick, convenient, and even less expensive than buying it in the store.
EASY:
Mr. Chewy's site is user-friendly. Photos help you identify all those different bags of dog food easily. You can narrow your selection by brand, lifestages, or other categories such as Organic, Grain Free, or Weight Control. And, the check-out process is simple.
QUICK:
Did I say quick? I ordered my food on a Wednesday, and shortly received an email confirmation. My order was broken into two parts. The very next day a box of dog treats arrived on my doorstep. And in only 2 days, a huge box containing a 35 pound bag of dog food arrived!



CONVENIENT:
No standing in lines! No fighting traffic! No lugging a heavy bag of dog food! I didn't even have to get up from my chair! Okay, now that's convenient! You can even arrange for automatic delivery based on a schedule you set up.
Plus, Mr. Chewy carries more than 70 brands of pet food and treats including:
Blue
Nutro
Halo
Science Diet
Taste of the Wild
Honest Kitchen
and more!
LESS EXPENSIVE:
Check out their prices for yourself! And, shipping is free with orders of $49 or more!
Why else should you order from Mr. Chewy?
HELPING CHARITIES!
Mr. Chewy's Donation Program is great! For everyone you refer to their site who makes a purchase, Mr. Chewy will donate $10 to a pet charity of that person's choice!(Your referrals get 10% off their first order, too!)
Before this experience, I never even thought about ordering Kelly's dog food. I mean, why not just keep doing things the same way I've done them? Now, Mr. Chewy may just have changed my mind! Mr. Chewy has my vote for a pawsome pet food site that certainly delivers as promised!
*Disclaimer:
We were contacted by a representative of Mr. Chewy.com, a new online pet retailer, to write a review of their ordering process in exchange for a gift card to their site. We received one bag of dog treats and a 30 lb bag of food (courtesy of Mr. Chewy) and asked for our honest opinion of their service. The opinions expressed are 100% my own.