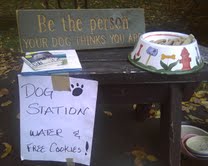 I saw this recently at the World's Largest Garage Sale. Plenty of dogs roamed the sidewalks, enjoying the event, so it was great to see such a pet friendly vendor. Many dogs took advantage of the offerings.
I've been thinking, is my town pet friendly? I live in a small city in upstate New York. There are no dog parks in my community, although I know of some in neighboring areas. I looked up and found several hotels that do allow dogs, with various different policies. I don't take my dog to restaurants or shops locally, but here are a few attractions in the area that allow dogs:
Hudson River Pedestrian Bridge: 650 foot connecting Albany's historic riverfront to the Corning Preserve welcomes leashed dogs to enjoy the stroll and the views.
Howe Caverns: Leashed dogs are allowed in all above-ground cave areas and walking tours. Dogs are not allowed in the caves.


Stuyvesant Plaza: 60 store shopping mall. Dogs are welcome to explore this outdoor mall, and it is up to the individual shop owners if dogs are allowed in the stores.
Albany Riverfront Park: Offers a boat launch, bike trail and amphitheater. Leashed dogs are allowed in the park, but are not allowed during special events.
Is your town pet friendly? Have you been to an event recently that was made easier because someone thought to accommodate your furry friend?