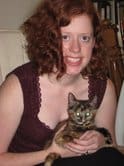 Here's Kate with her little kitty, Cinnamon. She works hard to brush her, trim her nails and feed her cat good food and keep her healthy. But does Cini Mini also keep Kate healthy?
I've always heard that owning a pet was good for your health. When we're not feeling well, many of us have found comfort in the love and devotion of a pet at our side. Remember the great scene in the book (and movie!) Marley and Me, when Jenny is despondent over her miscarriage, and Marley rests his head on her lap? His calm, loving presence is part of what helps Jenny heal.
I know my dogs help me feel better. Kelly's even spurred me on to walking and losing weight, which has definitely contributed to my improved health. In researching my recent column, I also found studies that documented this pet-owner health connection. Researchers have found, for example, that pet owners often have a lower blood pressure than non-pet owners, especially when in stressful situations. I also learned that having pets in the home can actually reduce a child's chances of developing allergies.
Stop by and visit my Guideposts pet column, Five Things About Pets to learn more.
Wait for the slide show to load (Be patient…this may take a few) then click on the Health and Wellness tab below the slide show. When the title comes up, click on the blue title "Five Ways Pets Can Improve Your Health."
Paws for Reflection: As if we needed another reason to own a pet!