Pets can be messy.
And stinky.
Muddy paws. Accidents in the house. Grubby dirty hairy bodies on our good furniture.
And in our home, lately Ike is having a stomach upset. And this means that all of a sudden, without warning, he's tossed his cookies..er, kibble, and I have a smelly mess on the carpet.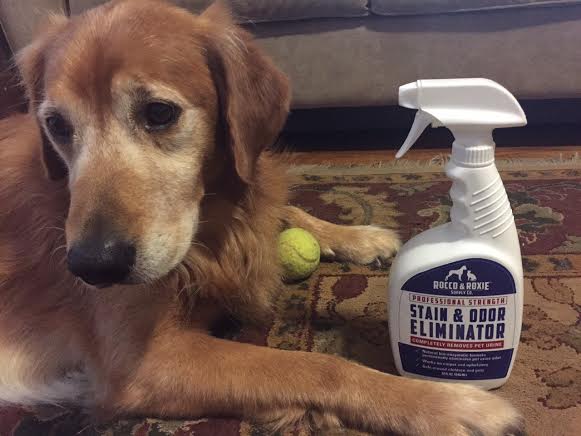 "My tummy doesn't feel so good. But how is this spray going to help?"
When Chewy.com sent me a bottle of Rocco & Roxie Stain & Odor Eliminator to try out, I wasn't sure I needed it at first. After all, my dogs aren't puppies–they're 9 and 13 years old. We're not working on housebreaking. They don't have accidents in the house.
Then, Ike started with his tummy issues. (We've had him to the vet and he's on medication. At this point we think it's a food sensitivity, a tricky issue to resolve.) And that's when I realized I had a definite use for this product.
Following the directions, I scooped and sopped up what I could with a paper towel. Then I sprayed a liberal amount of Stain and Odor Eliminator on the area. After letting it stand for a few minutes, I wiped it clean. After it was dry, I vacuumed.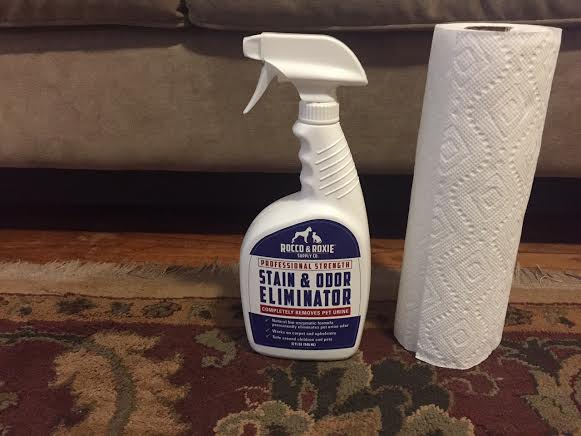 This helps freshen things up!
Happily, the carpet came out nice and clean. Of course, I got to it right away. I haven't tested it on old, set-in stains. But, the best part is that the carpet also smelled nice and fresh. I worry about my house smelling "doggy" and I think getting up these little spots and stains quickly, with a quality product is key to keeping the smell in check.
Rocco & Roxie has natural bio-enzymatic formula that is said to "permanently eliminate pet urine odor" and I might add, upchuck odors as well. A week after application, it still smells fresh and clean. It works on carpet and upholstery, and is safe around children and pets.
I definitely recommend Rocco & Roxie Stain and Odor Eliminator. Although I haven't tried it on pet accidents, based on my experience, I have every confidence that it would work great. I like the odor, it's fresh but not perfumey.
This is a good cleanser for anyone with pets.
*Full Disclosure- Chewy.com sent me a 32 oz. bottle of Rocco & Roxie Stain and Odor Eliminator in exchange for my honest review. This in no way influenced my review. Opinions expressed here are 100% my own.