Valentine's Day is coming. What a great day to celebrate the love we have for our friends and family…including our pets. And wouldn't it be fun if we could share how much we love animals with attractive, beautiful, charming jewelry? Yes, please!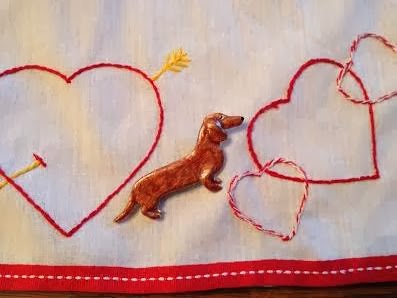 Magic Zoo handcrafted jewelry for animal lovers recently contacted me and asked if I'd like to review one of their products. Oh my gosh, which one to choose?! I took a look at their site, and wow! was I impressed with the variety and styles. I have a few dog designed necklaces that I love to wear, so I thought this was a great idea. Just look at some of the beautiful jewelry they make: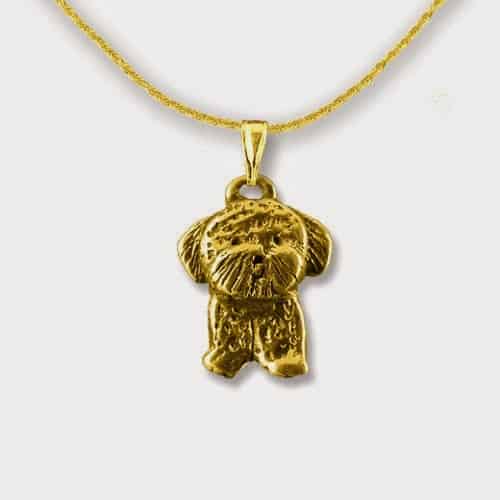 Cute gold Bichon Frise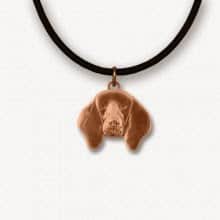 Bronze Coonhound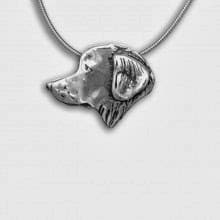 Sterling silver Golden Retriever
there are even many breeds of cats including these cuties: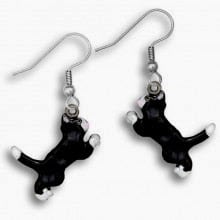 Enamel kitties earrings
And horses, birds, pocket pets, frogs, wildlife, ocean life, farm animals and more. I'm seriously in love with this: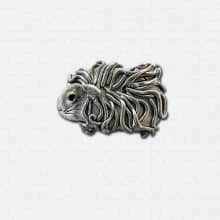 Long haired guinea pig pin
I really wanted a golden retriever pin or pendant, but I couldn't get
this adorable dachshund pin off my mind so this is the one I finally settled upon.
It was a difficult choice, but I think a great one. Isn't it pretty?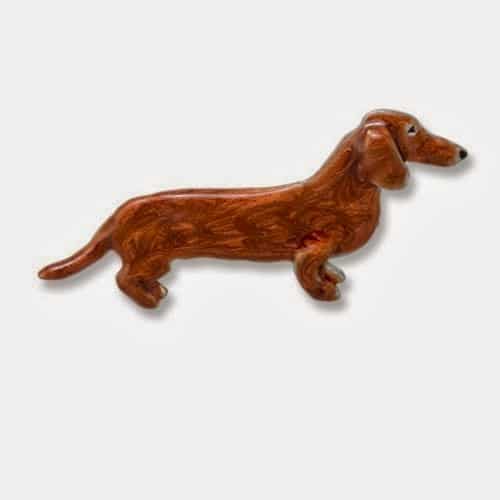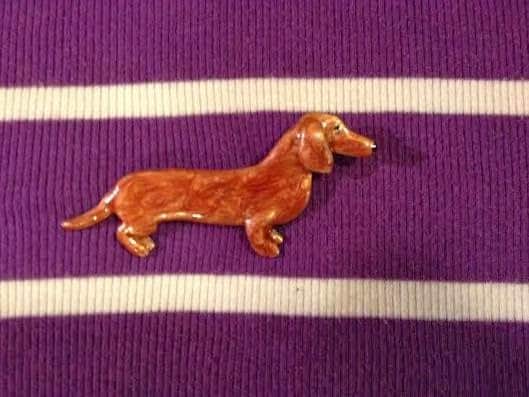 Here it is on my shirt.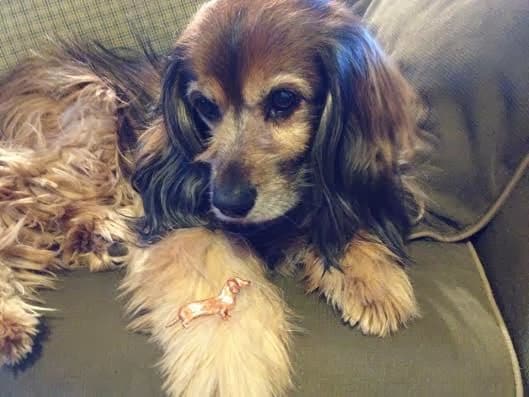 "Hey, can I borrow your pin Mom? Since I'm part dachshund, it looks a little like me, dontcha think?"
The pin arrived in a lovely gift box. It is heavy enough to tell it is made of quality materials but light enough that it is comfortable to wear. It's made of enamel painted over lead-free pewter. The painting, done by artists in New England, is really quite striking, full of little swirls and details. I love my little dachshund pin and can't wait to wear it on all my tops and jackets. If you're looking for really cute accessories for your outfits, you might find something special at Magic Zoo. I dare say they have a style for everyone, and just about any dog, cat, farm animal, wild animal, or any animal you might want to see.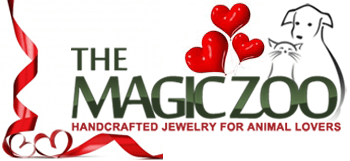 Full Disclosure: I was provided with the enamel dachshund pin for my honest review. This in no way affected my review. Opinions expressed here are 100% my own.
Want
more positive pet tips, good news, and special offers? Fetch
my free newsletter, Pawsitively Pets. Kelly and Ike
hope to see you there!