When is dinner time also play time?
Answer- When you're a dog!
I've long promoted products that help stimulate dogs' curiosity and give them a puzzle to solve, while also slowing down food consumption time. (Ike can gulp his meal in 2 seconds flat!) When I learned that a new company was providing "environmental
enrichment for dogs through thoughtful product design" I had to find out
more.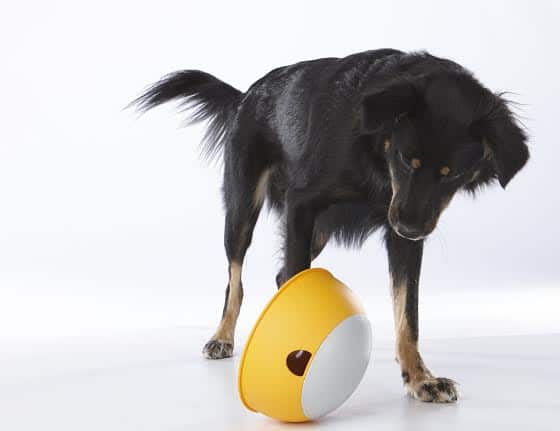 Paw5 Rock 'n Bowl
"Dogs are incredibly intelligent and social creatures that need ways to think, work and be active. By adding environmental enrichment to mealtime, a routine part of every day, we believe we've made enriching dogs' lives easier for busy pet parents," says PAW5® Co-Founder, Dennis O'Donnell.
Paw5 sent me their product to review…and at the end, I'm giving away two Rock 'n Bowls to lucky readers!! Be sure to enter, because you're going to want one of these for your dog!
Rock 'N Bowl™ builds off dogs' natural behaviors and instincts, and turns mealtime into an enriching and rewarding challenge. Made to look like a standard dog food bowl, the Rock 'N Bowl's unique structure encourages thinking, problem solving and fun. The design allows food to be poured directly into the top, as easy as a normal bowl, and then funnels it into a hidden compartment, requiring dogs to paw, nudge, and play their way through mealtime.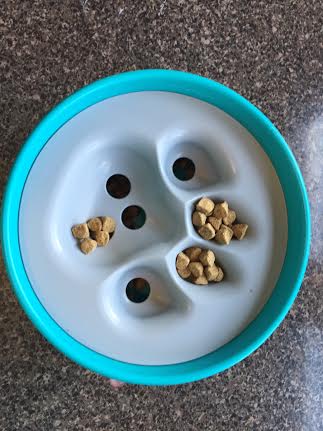 Pour kibble into the top.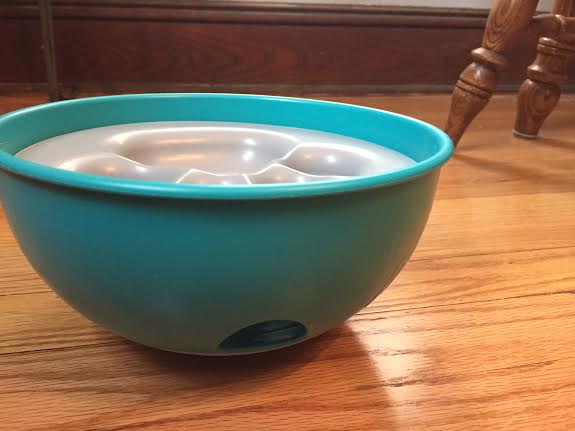 Kibble comes out one of the holes at the bottom.
I was curious to see how my two senior dogs would do with Rock 'N Bowl™.
THE REVIEWERS:
Kelly, 14, is intelligent and clever, but lately has been a bit off her food, leaving some in her bowl.
Ike, 9, is an avid eater, a gulper, and extremely food motivated, but he's not a great problem solver.
REVIEW
Filling the feeder is simple, just dump your kibble in the top just like you would any other bowl. If you have lifted the bowl into a counter-top or something, you have to be careful or food will spill out onto the counter or onto the floor as you move it. So I would suggest having the bowl in place and filling it there.
Both dogs were curious about the bowl and had no problem solving the puzzle. While it may not be challenging, both dogs had fun.
Kelly seemed to purposefully nudge and tip the bowl to get food to fall out:
Ike seemed surprised that there was kibble on the floor! Where did that come from?
Food does spill out all over your floor, but if your dogs are like mine, they will waste no time in cleaning it up.
I was delighted with the Rock 'N Bowl™ . It wasn't too difficult for Ike, and both dogs seemed interested and motivated. The bowl is sturdy and attractive, top shelf dishwasher safe, BPA and phthalate free, and made in the USA!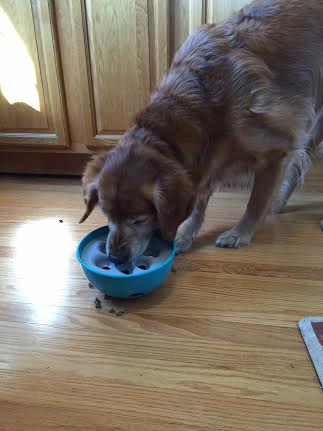 Enter to win a Paw5 Rock 'N Bowl™ here. Two winners will be selected at random.
a Rafflecopter giveaway
Learn more at
paw5.us
or on
Facebook
,
Twitter
or Instagram @paw5.us
FULL DISCLOSURE: I was given two Rock 'n Bowls to review and two to give away. This in no way influenced my opinions. Opinions expressed here are 100% my own.