Hi! Scraps the Writer's Dog here!
The May/June issue of All Creatures is out, and I have a lot to share! First, check out the cover of the magazine there at Pete and Ernest's feet. There's an amazing story about a woman who takes care of dogs with special needs. Dogs who've been sick or mistreated. Wow, she takes such wonderful care of them. I pray that every hurting dog will find a person like her, and place like that to live.
And here's what Mom has in this issue: First, there's a short story about an unexpected friedship between a puppy and a chicken! The adorable yellow lab named Dug is now a one year old big boy.  Do you know who he's named after? Yup, that wacky but lovable dog in Pixar's Up! He's still a friend to everyone and every animal at the Earle's home!
Then, Mom talked to a couple who volunteer at VINE Sanctuary in Springfield, Vermont. VINE stands for Veganism Is the Next Evolution. They care for animals who have escaped or been rescued from the meat, poultry and dairy industries. What a cool place, there's even a pink and purple pig house, which the pig shares with a goat and some chickens. There are so many people who volunteer to help animals, and this features highlights them every issue.
You can also read Mom's column about having a pet later in life. She says it's a mutually beneficial relationship. She just helped her own mom in Vermont rescue a dog from Puerto Rico. His name is Alfie. You'll meet him later. He's 25 pounds, about 6 years old, and reddish blond. He benefits from a loving new home, and his older adult mom benefits from the companionship and sense of purpose. There are so many reasons to have a pet later in life.
Hey, do you recognize the dog in the picture? Of course, that's Ernest! And the lovely lady in the picture? That's grandma, Betty! She's Dad's mom, and she's 91 years young! Here's another picture from the photo shoot. She loves it when Pete and Ernest visit!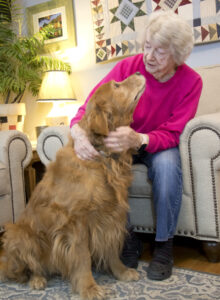 Do you know of an unusual animal friendship that would be awesome featured in the magazine? Or do you, or someone you know, volunteer to help animals in a wonderful way? Share in the comments and maybe Mom will write a story about you too!