Guinea pigs are ridiculously cute, and an almost-hairless guinea pig…well, over the top cute! Sheldon and Spencer are the awesome skinny pig therapy animals featured in The Dog in the Dentist Chair. We caught up with their mom, Shannon Barry, to find out what's new since last we left. Sadly, there's some unhappy news. But also some happy news.
1.  Could you give us an update on the skinny pigs?
SB:  Sheldon took ill on January 31st. He was diagnosed with heart failure and pneumonia. The vet treated him and he fought hard. He went to the rainbow bridge on February 2nd, surrounded by his family who loved him dearly and knowing we tried all we could for him. He was 6 weeks shy of his 5th birthday. Then, Spencer had a serious health scare, but he came through. He's a miracle piggie.
2. Tell us about the new skinny pig in your family.
SB: On a grey and misty morning I had been really thinking about Sheldon and wondering what to do. Do I try and find a new buddy for Spencer? When I walked out of my house to go to the gym on the dreary morning, there in front of me was a huge rainbow! It was a sign. Yes Sheldon wanted another piggie to move in with us and be Spencer's new buddy. I went to Petsmart and there he was. A baby skinny pig all alone waiting for someone to take him to his forever home. I could hardly believe it. A male with the same potato colouring as Sheldon. He was destined to be ours, sent to us by Sheldon. So that's how Sydney joined our family.
3. The skinny pigs recently were involved in a project called Paws and Order. How did that come about?
SB: So we were contacted by a local police officer through our social media. He is also part of the Hamilton (our city) Police Male Chorus. They had decided to do a fundraising calendar and thought it would be fun to pair officers with animals. The calendar is called
Paws and Order.
The boys are September, and it's a forensic scene with Sgt Annette Hughes. The calendars sell for $20 and the money raised is decided three ways between the following:
-the Hamilton police male chorus
The special Olympics torch run
Zachary's Paws –they provide care for animals whose owners are in the hospital etc, and make arrangements for owners to have their pets visit them in hospital.
Check out the photo from the calendar! That is so adorable!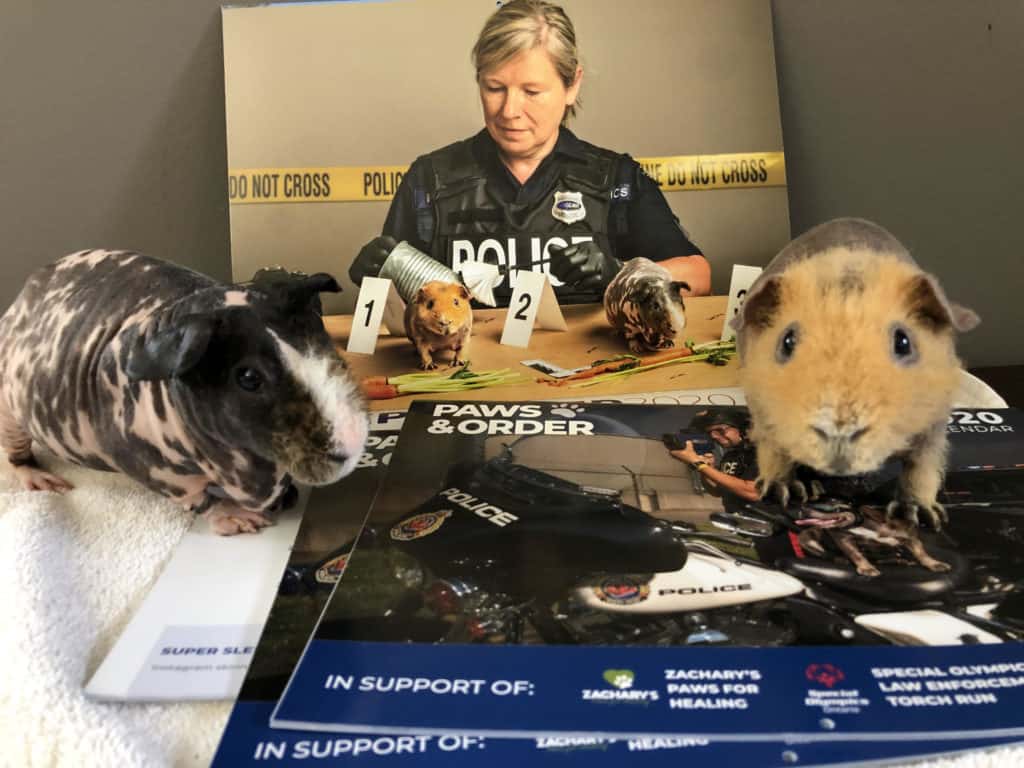 Thank you to Spencer, Sydney and of course angel Sheldon.