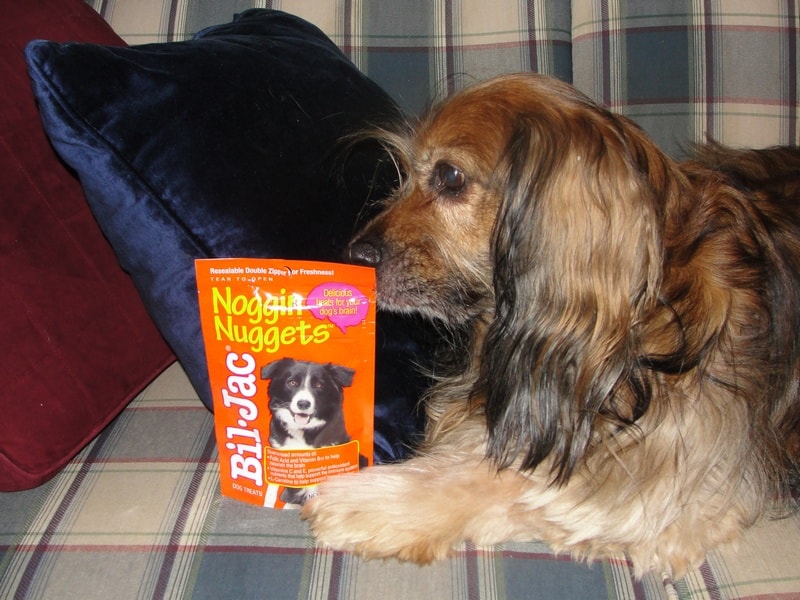 Can snacks make your dog smarter?
Recently, Kelly and I were sent a sample of Bil Jac Noggin Nuggets to review. The package says that the snacks are "delicious treats for your dog's brain." There's a picture of a border collie on the front, and she looks pretty smart all right!
The treats contain guaranteed amounts of:
* Folic Acid and Vitamin B12 to help nourish the brain
* Vitamins C and E, powerful antioxidant nutrients that help support the immune system
* L-Carnitine to help support brain function
The first five ingredients are:
Chicken, Chicken Liver, Chicken By-product meal, Wheat Flour, and Glycerin.
Kelly has enjoyed Bil Jac treats before, and loves them. And she loved these too! They're small and soft, and a good size for training rewards. Four paws up!
But did they make her smarter? Just for fun, I gave Kelly this test:
I hid her stuffed bunny toy under one of three pillows and timed how long it took her to find it. Then I gave her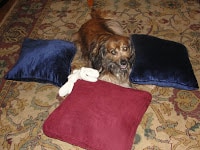 a Noggin Nugget, and repeated the test with the bunny stuffie under a different pillow.
Results:
Time to find a toy Before Noggin Nugget: Kelly could not locate toy.
Time to find a toy After Noggin Nugget: Kelly still could not locate toy.
Check out this video to see for yourself:

Of course, this categorically proves…..absolutely nothing! (Except that maybe Kelly was more interested in a nap on the comfy pillows than her stuffed bunny.) But we're just kidding anyway. We know that no snack can make any dog instantly brilliant…right?!!
*All opinions are my own. I was provided with one 4 oz bag of Noggin Nuggets for Kelly, in exchange for my honest review.