Take some adorable highly trained, spotted dogs, cue music by one of the creative minds behind such musicals as Cabaret and Spamelot, add some live actors and actresses, put them all together on a stage and what do you get?
101 Dalmatians, the musical. Running April 7-18 at Madison Square Garden, NYC.
Check out this clip of Rascal by the movie's dog trainer, Joel Slaven.
The concept for the stage production is explained by the show's bookwriter, BT McNicholl. "Typically," he says "stage productions present animals or exotic creatures using some form of puppetry (as in THE LION KING) or dressing actors in animal costumes (CATS). But here, given that our premise is inside-out, we invert the equation: The animals are human and it is the humans that are exotic."
The human actors are on stilts to make them appear how the dogs would view them.
One more thing I discovered on the website, which is really cool to me. You might think that one black and white spotted Dalmatian looks pretty much like another, but as you look at the different canine actors in the show, you see they are all pretty different. That's why took a second look when I came upon this photo of of Lacy (left). Look at her compared to the picture of our old pet Dalmatian, Schuyler (right). Holy spots!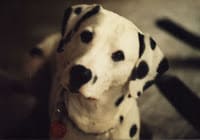 Here's how to get tickets to 101 Dalmatians, the Musical.