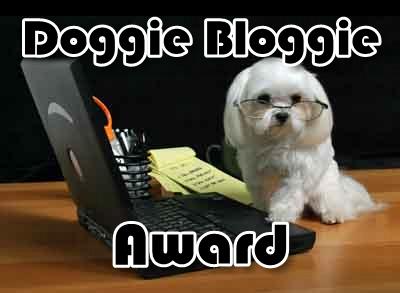 Awards…awards! I am so honored to receive this adorable Doggie Bloggie award. Thank you to 24 Paws of Love for passing it my way! 🙂
The instructions say to post 10 things about myself, but instead, I want to mention 10 amazing dog and pet blogs that have helped me, made me laugh, made me care, and inspired me to try to be a better doggie blogger.
Okay, I might have gone on beyond my goal of 10 blogs. I read a lot of blogs and every day one or another or several speak to me. I had to stop somewhere though. So if I missed your name on this list, please know that I appreciate your work and share your love of our furry friends. And if you are on the list, thank you thank you thank you for all you do!
Thank you:
1. 24 Paws of Love– not only for giving me this award, but because I'm learning a lot about Siberian Huskies and the rest of the pack, and what lovable dogs they are.
2. Take Paws/Go Pet Friendly– for showing me that it is possible to travel with pets, and love it!
3. Be the Change for Animals— for helping me become aware and involved in important animal advocacy programs.
4. This One Wild Life – for great Wordless Wednesdays, dog and kitty antics too.
5. k9Chronicles – for educating and encouraging about pet food and more.
6. Maggie Mae Says– for making me smile. and laugh. and smile. Every time.
7. Grouchy Puppy – for providing a community of dog lovers.
8. Will My Dog Hate Me – for thoughtful and funny reflections.
9. Doggy Days– for making it easier to get through a day because of Benny and Lilly's cute faces.
10. Dancing Dog Blog– for making me think harder, sometimes about tough subjects.
11. Doggie Stylish – for sharing fun and quirky dog news.
12. I Still want More Puppies – for making me want more puppies too.
13. Critter Alley– for sharing a love of writing about animals.
14. Oh My Dog – for fun and helpful posts.
15. Fido and Wino – for ROAR Squad (and for making me a member!)
16. Champion of my Heart– for teaching me what helps contribute to a dog's behaviors.
17. The Teachers Pets – for new friends and blog hops.
18. The Life and Times of Eva Sheltie – for extraordinarily beautiful pictures.
19. My Brown Newfies– for sharing a love of our pets–including big furry drooly ones!
20. Frankly Speaking -for making me laugh, even if I don't always understand what Frankie's up to.
21. Pip Gets Back in the Game– for making me go "awwww!"
Post the award, share 10 things about yourself, pass the award along to 10 others, or 15, or 2, or 20… or just revel in the glory. It's your award.. do what you want!
A special thank you goes out to all the other blogs I just couldn't mention here because of space and time…I hope to show you my continued appreciation by visiting your blogs, leaving comments and telling others to come and visit you too.
Happy Thankful Monday!