The Beautiful Story of Sissy, A Dog with Cancer
When Shawnelle, her husband, and her five active sons wanted a dog, they
fell in love with the deep, soulful eyes of retired racing greyhounds.
They found a rescue group which matched them with a sweet fawn colored,
five year old gal–Sissy.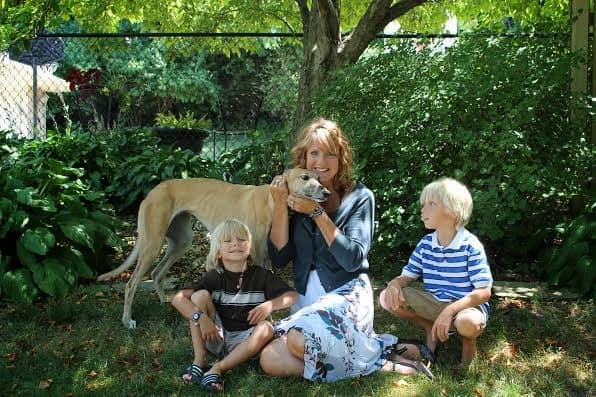 With five boys in the family, Sissy was the perfect addition.
One thing Shawnelle loved to do with Sissy was to go on walks. Greyhounds run short sprints, but they don't have the endurance for long runs. The walks with Sissy were just right. Sissy also enjoyed cuddling with her young sons. Sissy was a gentle soul, sensitive and trustworthy. She reminded Shawnelle of an elegant lady–she had great beautiful manners and a gentle spirit. "Her goodness went deep," says Shawnelle.
Having just been pulled from the tracks before being adopted, Sissy remained a fearful dog. It was sad for her family to see her scared. Loud noises and fast movements frightened her. A full trash bag nearly scared her to death. Shawnelle learned what made her uncomfortable, and helped her avoid those things. Very slowly, the family helped Sissy learn to trust. It took time to earn her trust, but Shawnelle and the little boys watched her grow strong, and it helped them feel braver and stronger too. "Sissy changed us," Shawnelle says.
Then, two years after they adopted her, Sis began to limp. It happened
suddenly. Shawnelle took her to the vet for xrays, which eventually
revealed cancer. Bone cancer. The disease progressed rapidly. Within a
few weeks, her pain was unbearable. Sis couldn't walk, she cried night
and day, even though she was on large amounts of medication for the
pain.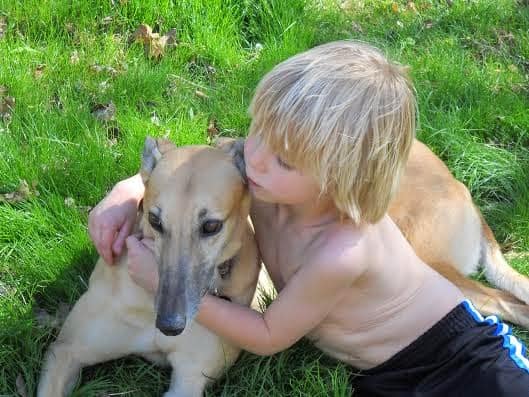 "Sissy changed us," Shawnelle says.
Losing Sissy was understandably heartbreaking for the family. I asked Shawnelle what she misses most about Sissy:
"Sweet Sis was a gentle presence in our home. I miss watching my boys being tender with her. I miss seeing her respond to love. I miss her easy pleas for affection – just a gentle prod with her long nose, or even, after time, when she'd rest her face on one of the boys' laps. I could really trust Sis, and she was very maternal with my boys. When they were in the yard, she'd be right there. If one fell, she'd run over to provide comfort. She was attentive to their needs. I miss Sis' warm brown eyes. They were special. They reflected her soul, i think. I also miss watching her stretch out in the sun. She loved the warm sun on her back. This delighted me. I'm not sure that she had that blessing in her racing life. Sis and I were also very much alike. Both girls in a house of men! But we were alike beyond that–she was quiet and still and peaceful. I miss that easy likeness. But what I miss most of all, I think, is her friendship. There was something lovely in the way our trust relationship unraveled and grew."
Shawnelle's boys talk about Sissy all the time. They keep many pictures of Sis around the house, usually with a boy embracing her. Shawnelle's oldest son, Logan, who was away at college, said "Mom, if Sis only had two years, Im glad she got you." Eight-year-old Gabriel speaks of her when they experience beautiful things. "Sis would love that spot in the shade." "Sis would love walking this trail…"
In the spring, Shawnelle hopes to plant something in her honor. Maybe something that flowers. Something lovely.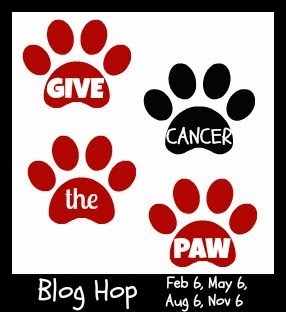 Give Cancer The Paw hosts: Jackie from Pooch Smooches and Peggy from Peggy's Pet Place. Join the blog hop!
Want
more positive pet tips, good news, and special offers? Fetch
my free newsletter, Pawsitively Pets. Kelly and Ike
hope to see you there!