When bad news is shared, the response from others who understand brings comfort. I want to thank everyone who has taken time to leave a message on Facebook, comment on the blog, or send me an email or private message expressing your sympathies, and sending your thoughts, prayers, hugs, dog kisses, tail wags and love. Every word and every message is special, including this from Jodi, Koly and Felix of Kol's Notes: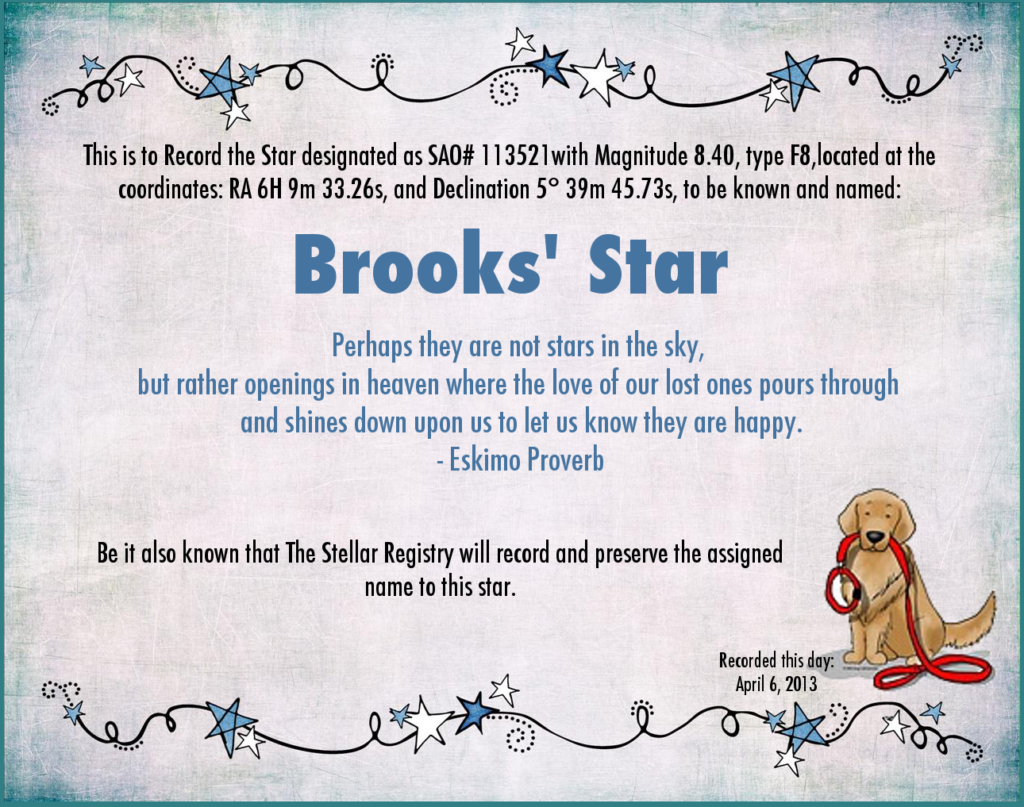 Imagine! His own star! I went outside and looked up at the sky and it put a little smile on my face to think of Brooks' Star twinkling bright. Thank you Jodi.
and this image from Loretta Ranscht:
and this beautiful poem from Roy AnDonna Clark (Shiloh):
(Some day when the time is right, there will be another dog, and he'll be a golden retriever.)
And of course this poem:
and this poem written by Donna Teti:
Faithful Friend
St Francis open up the gates
Here comes our faithful friend
Let him run and play and explore
Just like he did back when
Our beloved dog is now with you
More than a pet… he'll always be
A companion, a loyal friend
A part of our family
He kept us company many a day
Throughout his faithful years
A presence in our daily lives
We can't hold back the tears
So St Francis who has always cherished
God's very special friends
Scratch his back; give him a hug
Until we meet again
Copyright © 2011 Donna Teti
Thank you so much to everyone.
I also want to let you know that Kelly is doing fine and we're making sure she knows she is well-loved too.
love
Peggy
******* I JUST HAVE TO ADD THIS, Pam and Oskar from Pet Blogs United just alerted me to this wonderful email and button, made by Ann from Zoolatry in honor of Brooks. Ann wrote:
Adopted late in life, handsome BROOKS was with his family just a year. But he was loved as if he had been there forever. His story shows the beauty and value of adoption of a senior pet. Cancer took him unexpectedly and quickly, and he will be forever missed. You can read his story, and leaves words of comfort for those left behind, click the LINK below. Thank You!
http://peggyfrezon.blogspot.com/2013/04/goodbye-brooks.html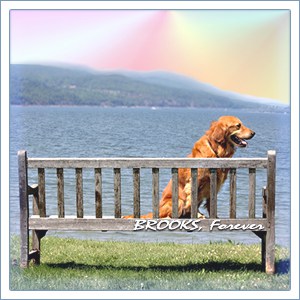 THIS IS SO SWEET, I WILL TREASURE IT ALWAYS. THANK YOU ZOOLATRY!
Want more, pawsitive pet tips, good news, and special bonuses? Content not already on the blog? Subscribe to my free newsletter. We look forward to connecting there!