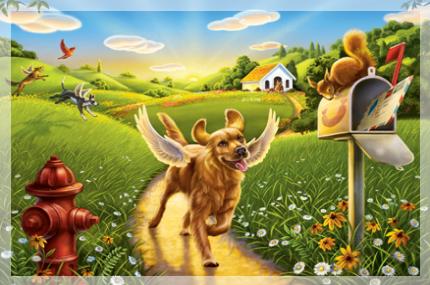 Illustration from Angels on Earth magazine Sept/Oct 2012
A dog, a little girl, and a mailman. Oh yes, and an angel.
Last year I read a sweet news story about the Baker family, grieving for their dear golden retriever, and the letter that helped them all feel better. Since I write for Guideposts magazine, I knew right away that this was a story our readers had to hear. So I contacted Rebecca Baker and discussed the incident with her. It was every bit as touching as I knew it would be. I helped bring the story to Guideposts, and it is published in Angel's on Earth (Guideposts' sister magazine) September/October issue (available now.)
To help heal from the loss of her beloved pet, 5-year old Anna Baker wrote a letter to her dog. Read the rest of the story To Jack in Heaven on Guideposts website now. And don't forget your tissues!