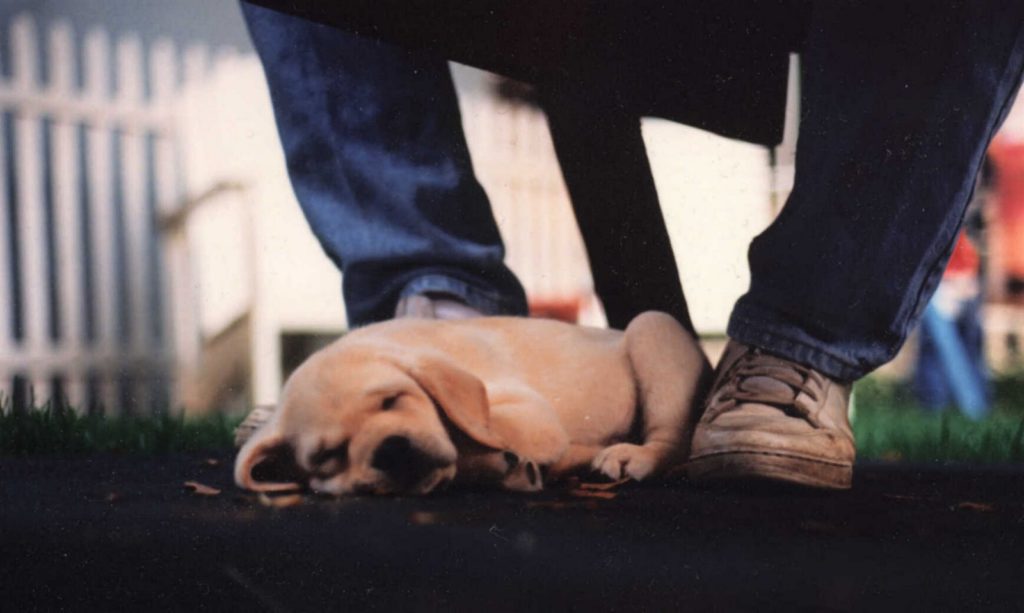 I often write about our Yellow Lab, Hudson. Here he is when he was a puppy. He was such a sleepy, mellow pup for about the first three weeks we got him. Then–look out!
Why we chose a Lab: We researched breeds and thought a lab would fit our family. Labs are known to be active, good with children and devoted. Somehow, we also got an image of a calm, gentle lab stretched out in front of the fireplace. That was never Hudson's personality. Plus, we don't have a fireplace.
Hudson's favorite toy: The Daily Growl–a plastic squeaky rolled up newspaper.
Favorite activity: Swimming. Whenever we took him to the lake, he could barely wait to get out in the water. He didn't mind icy cold water, and was a strong swimmer. Even though he adored being out in the water, he always turned around and swam back the instant we called him. For a retriever, he never seemed to bother about the ducks that shared the lake.
Food treat: Pizza crust
Trick: Uh….I guess you could call this a trick. When I said "Get your toy!" he would run to the toy box and grab something to play with. That's all I've got.
Why we loved him: He always rested his head on my husband's feet. If my husband wasn't home, he'd sleep on his shoes. He was sooooo devoted and when he got sick, he was so brave. He endured pain stoically. Hudson was a wonderful member of our family for 12 years.
Paws for Reflection: Some little puppy may grow up to be that one special Top Dog in your life.