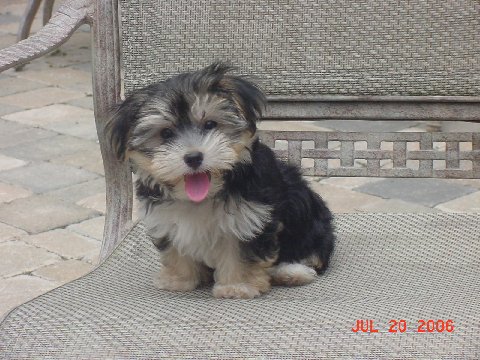 Every month I introduce you to another great dog, and here's one I can't wait for you to meet! Sue and her daughter Lindsay have the most adorable Morkie–Maltese and Yorkshire Terrier. What a charmer!
Name: Luca (of The Godfather fame!)
Age: 2 1/2
Weight: about 9 pounds. Don't you just want to pick him up and snuggle?!
Outfits: Naturally, Luca looks adorable in canine clothes. He wears winter sweaters, and has a cut blue t-shirt that says It really wasn't me!
Favorite toy: red teddy bear. Awwwww.
Funniest habit: opening empty water bottles and chewing on the lids.
Outings: He loves riding in a doggy tote, and sometimes joins his Mom shopping or to the bank.
Best trick: He can stand on his back legs indefinitely!
Sweetest thing: If someone isn't feeling well, he won't leave their side.



Paws for Reflection: Every great dog deserves its day!