Saturday Kelly and Brooks took us to Shampoodle Dog Wash and Spa in Delmar NY. Usually we bathe the dogs in the tub, which requires kneeling on the floor and uncomfortable contortions bending over the tub, sopping towels and a big mess afterward. Would Shampoodle be a good solution?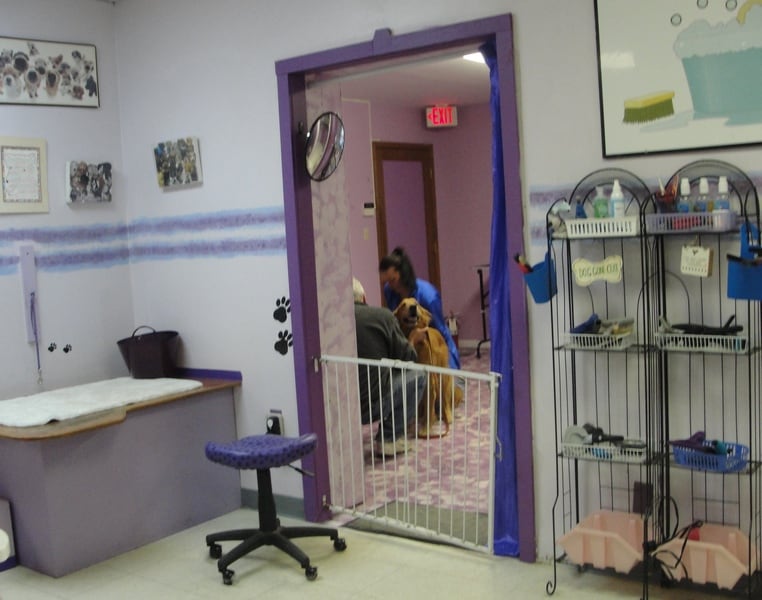 The dirty dogs:
Brooks– friendly, calm, senior Golden Retriever
Kelly– anxious, sweet but not reliably friendly with other dogs, Spaniel mix.
We entered the building and were greeted by a friendly receptionist who explained everything we need to know. The dog wash is $13, and two can share a tub for $19. Each tub is in its own little room. We decided one of the rooms with a gate would be best for Kelly. (There were plenty of other dogs there at the time and happily, she didn't have a problem with any of them. But it was nice to have the gate there just in case.)
The rooms were equipped with aprons for us to wear (although I forgot, which is too bad because I did end up getting rather soaked, due to Kelly's wiggling!), shampoo, conditioner, eye cleaner, ear cleaner, and more.
Kelly went first. She had no problem climbing up the steps and into the tub. It was spacious enough that she didn't feel confined. The tub has a nice, non-slip bottom. We tethered Kelly to the hook and used the nice gentle flow from the shower wand. Everything was in easy reach and convenient. No bending over. We could even get in the tub with her if we needed to, which we did because Kelly isn't the most cooperative when it comes to baths. The staff frequently checked to see if we needed anything, and at one point suggested we used a small rubber scrubber on Kelly, which they said is like a massage, and it really did help calm her.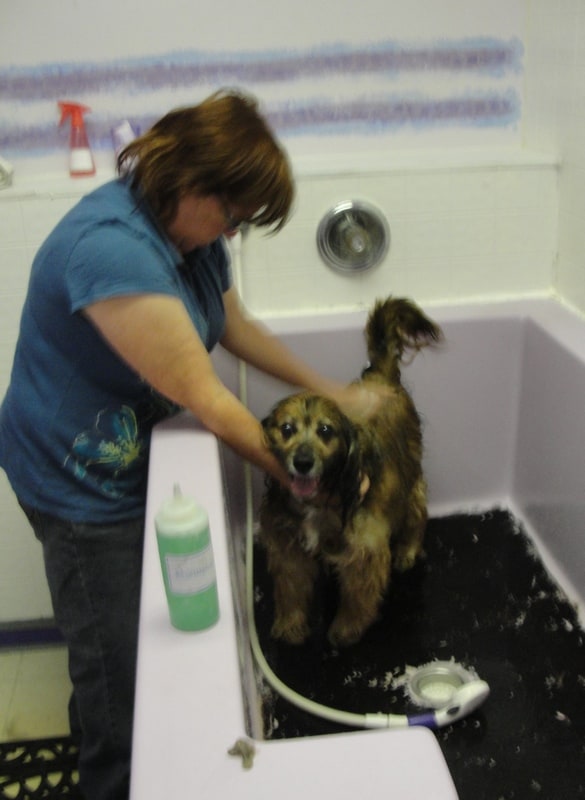 "Are you sure, Mom?"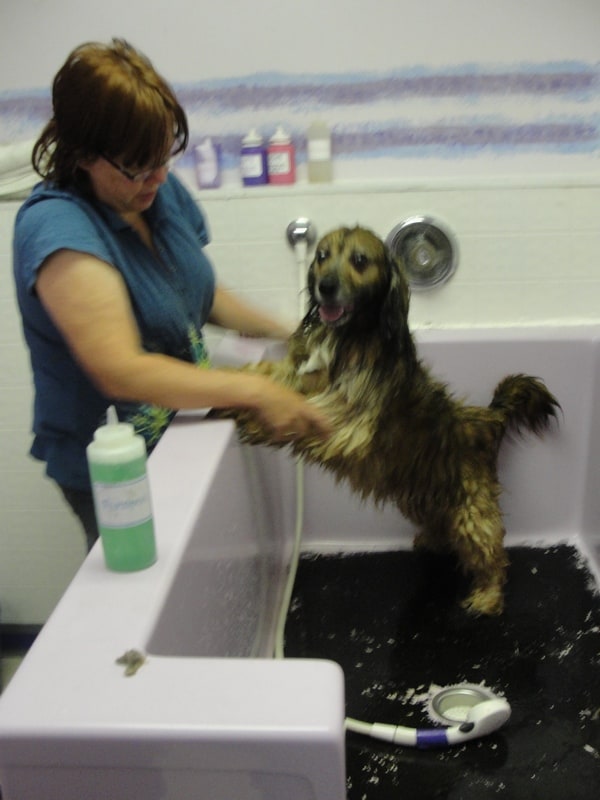 "I guess it's not so bad afterall, Mom!"
Next Brooks. Because he has skin problems, they brought him a hypoallergenic shampoo. We sprayed the water and he stood there and enjoyed the bath with a smile. No wiggling. Just, "more please!"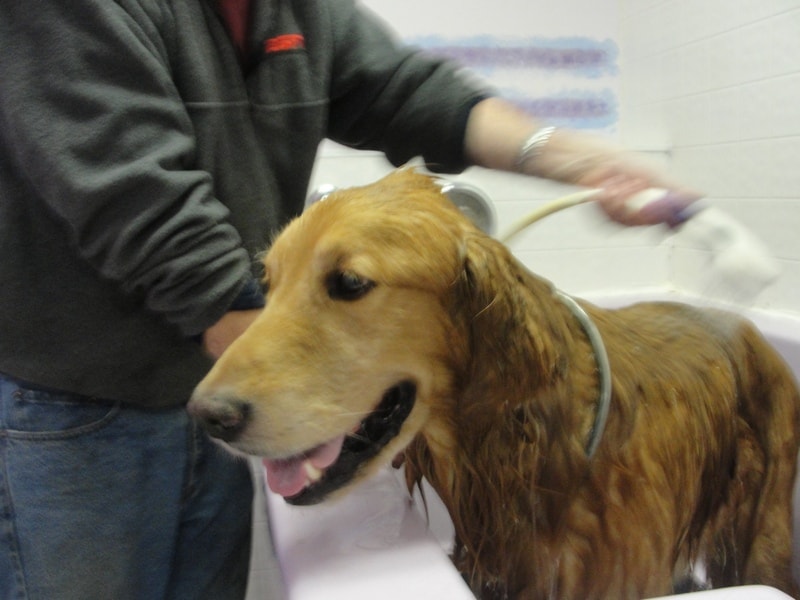 "More please!"
Two very different dogs. Shampoodle worked great for each of them.
After their baths, the staff brought warm towels, as many as we needed. There is a powerful blow dryer right in the room, which Brooks enjoyed until he was fluffy and dry. For Kelly, I tried using a small hand dryer, but she wasn't too crazy about that. So they brought me chamois which soaked up the water and helped get her fairly dry before we had to leave. I was impressed at how the staff was ready with a solution for any situation, easily adaptable, and agreeable to doing whatever was needed to make it an enjoyable experience for the dog, and pet parent too!
We left with two clean, soft, fluffy dogs…and all the towels, the mess, and wet floor, left behind!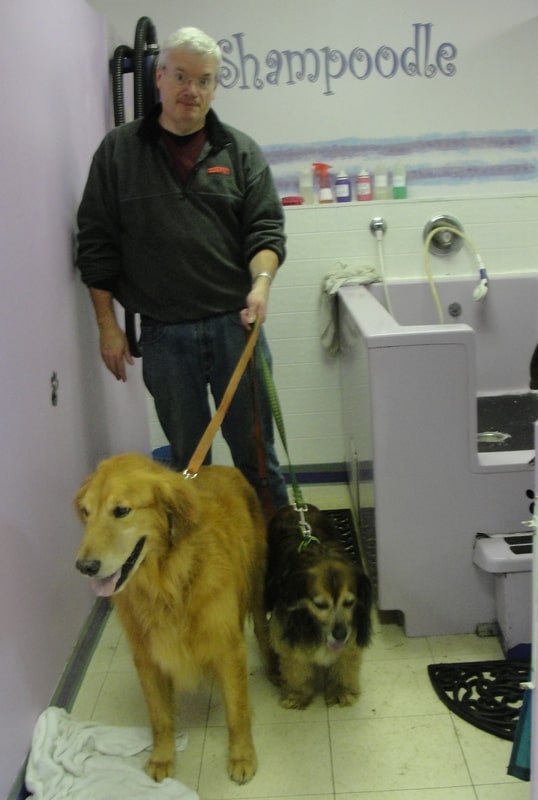 Ready to go!
We agree, this was a wonderful experience, and the only way we'd bathe our dogs again. If you live in our area, I hope you try Shampoodle. If not, I hope you have a do it yourself dog wash like Shampoodle near you.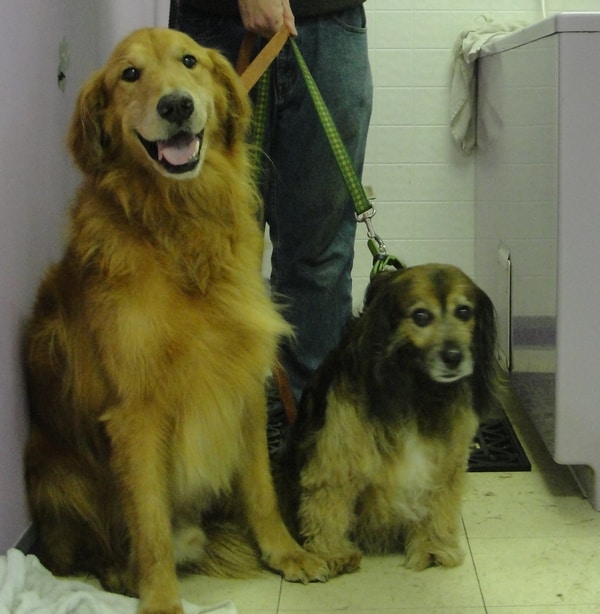 Look how fluffy!