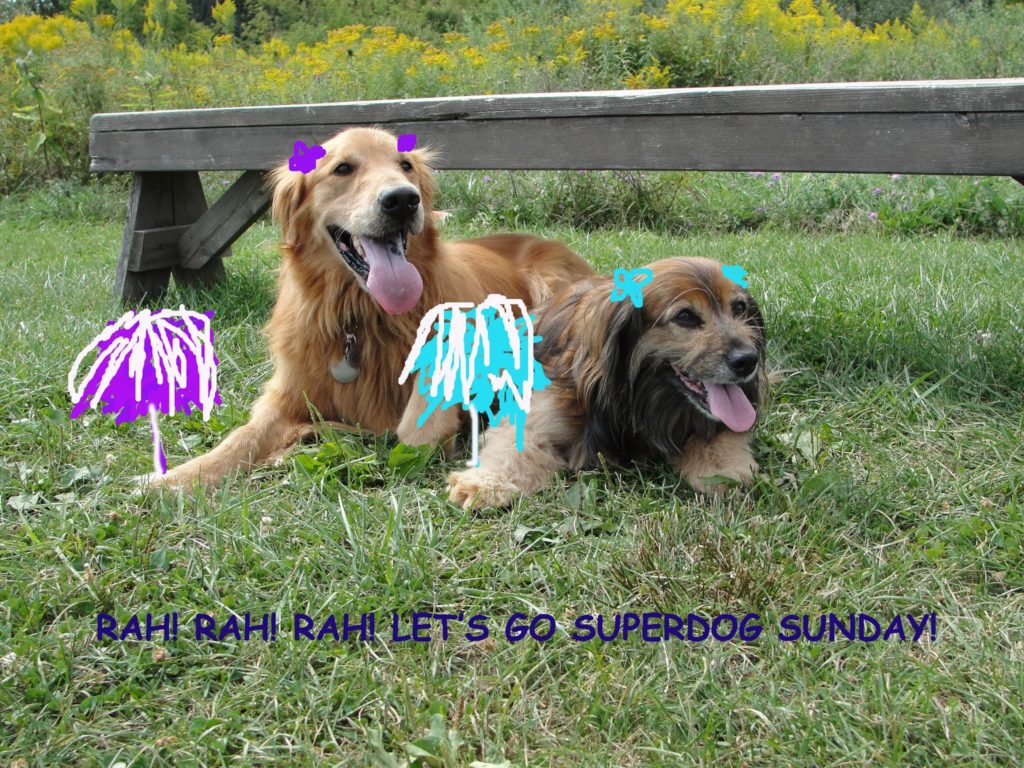 Give me an S
Give me a U
Give me a P
Give me an E
Give me an R
What do you get?
SUPER!! SUPER!! SUPER!
Wait! Not Supper? Oh well.
Kelly and Brooks here, cheering for Super Dog Sunday.
Brooks says I know I'm a boy…no jokes about the purple hair bows please 🙁
Super Dog Sunday™
We're on the cheer team!
Dedicated to telling you all about the big fun–
DogTipper and All
Things Dog Blog are combining to bring you the third annual Super Dog Sunday™, a photo contest that is a 100 percent
charitable event benefiting Petfinder Foundation. This event encourages pet lovers to
enter football-themed photos of their pets and/or of adoptable
Petfinder pets. Last year, several pets featured during the photo
contest found forever homes and the event sponsors made over $1,000
in donations to Petfinder Foundation! There are even tons of great prizes for lucky
entrants.
Start off with some pregame fun with the #SuperDogPics Twitter party
on January 20, an event where you can learn more about improving your
dog photography and doctoring Petfinder photos to give them a football
theme.
Then, submit your photos to [email protected]. The photos will be posted on DogTipper and All Things Dog Blog starting Jan. 20 through Super Bowl
Sunday, Feb. 3, 2013. And don't forget to enter the drawing for great prizes!
The sponsors of Super Dog Sunday™ are:
Petfinder Foundation is a great cause, so I hope you all join in the fun of Super Dog Sunday!